"I'm staying for as long as I'm needed"
The University of Freiburg is awarding credits to bachelor students for their community service, including volunteer work to help contain the spread of Covid-19
Freiburg, May 05, 2020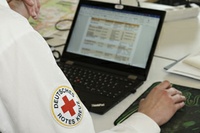 Photo: Stadt Freiburg
Philipp Müller has been volunteering for the Red Cross, where he works in civil protection, for the past eleven years. Through this service, he became part of the City of Freiburg's crisis management team that was established in response to the coronavirus crisis. Müller is now responsible for everything to do with communications: setting up everything from servers, firewalls, work desks for computers, and email lists, to Internet connections. In response to the current situation, the University of Freiburg is supporting him and other bachelor students in their community service through the Service Learning module offered by the Center for Key Qualifications (ZfS), which now enables students volunteering for initiatives fighting Covid-19 to earn 4 ECTS credits.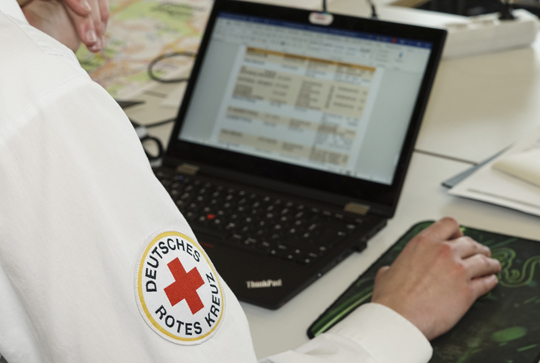 Through his volunteer work for the Red Cross, computer science major Phillip Müller is now working at the City's crisis center, where he takes care of everything related to communications. Photo: City of Freiburg
Phillip Müller has currently traded his student life for setting up antennas, installing cables, and answering phones. Müller, who is a computer science major at the University of Freiburg, has been working at the Freiburg crisis center since the beginning of April, doing his part to help contain the spread of the coronavirus. "Work has been very intense so far. I've clocked in 140 hours in April alone," Müller said, adding that it's important to know your way around the city's different departments, especially when it comes to communications. Müller wound up at the crisis center through his work as a volunteer for the German Red Cross. "My major in computer science helps me to use my technical knowhow effectively," he said. He doesn't see himself quitting anytime soon. "I'm staying for as long as I'm needed," he said. After all the hours he accumulated in the first few weeks, he expects things to cool down soon to about 8 hours a week.
At least 30 hours of service
By enrolling in the Service Learning module at ZfS, Müller as a bachelor student can now let part of his service helping to contain the spread of Covid-19 be counted as ECTS credits by the University of Freiburg. The goal of the module is to encourage learning through community service in civil society. "Working to help contain the spread of the coronavirus is a new area of volunteer work in our module, which also includes digitization, life and environmental sciences, intercultural relations and migration, environment and sustainability, and political lobby work," said Anette Bender, who leads the project together with her colleague Waltraud Ziegler.
The module consists of several elements in which students acquire necessary qualifications, reflect on certain issues, and receive advice from supervisors, in addition to completing 30 hours of practical service. Students who successfully complete all of these elements can earn 4 ECTS credits. "In response to the current situation, any volunteer work helping to contain the spread of the coronavirus that students started before the module officially gets underway in the middle of May 2020 also counts," said Ziegler. That having been said, at least 10 hours must be served after the module begins, so that students can directly implement and review new approaches and issues. Phillip Müller is looking forward to the Service Learning module and is excited to see what kind of framework based on specific issues and academic fields the teachers will come up with for his service.
Looking for alternatives
Annika Weiser completed the module last winter semester. A major in psychology, she has been involved in UNICEF's on-campus group since 2019. However, while Müller's work keeps piling up, the restrictions due to the pandemic are limiting Weiser's ability to contribute. "We have to find effective alternatives for the work we normally do," she said, adding: "This is urgent, because our main focus is collecting donations and communicating with the public at our information stands and through various campaigns." Although, most of this work probably won't be possible for a long time, the knowledge she gained from the Service Learning module has been very helpful in this regard, especially the workshops on public relations and communication. "I was and still am in the information work group, and in the workshops I was able to learn what's important for PR campaigns," she said.
Usually about 30 to 40 students complete the module each semester. Often they continue to volunteer for the same projects after the module. Many people have recently contacted the ZfS, wanting to know if their volunteer work helping to reduce the spread of the coronavirus can count toward the module. "Fifty people have signed up for the orientation event in the middle of May so far," said Bender. These include students who are already active in initiatives fighting Covid-19 as well as those who won't begin volunteer work until the summer.
Judith Burggrabe