Suspenseful characters
English specialist Nicole Falkenhayner is investigating heroism and heroes in British television series
Freiburg, Sep 22, 2017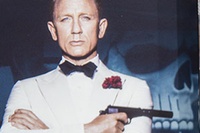 Photo: Jörg Blum/Medienzentrum UB
The post-heroic era actually dawned some time ago. Nowadays, most people in western societies are averse to placing their lives at risk. Remotely controlled weapons and drones have also contributed to making heroism something of a lost art. But if you look, you can still find heroines, heroes and heroic acts. Dr. Nicole Falkenhayner has been hunting for them. The English specialist is working within the collaborative research center (SFB) entitled "Heroes – Heroizations – Heroisms" of the University of Freiburg. As part of a team including Prof. Dr. Barbara Korte and doctoral candidate Maria-Xenia Hardt, Dr. Falkenhayner is investigating manifestations of the heroic in contemporary British television. In an interview with Hans-Dieter Fronz, Dr. Falkenhayner reports her findings.

Heroes transformed: In the latest Sherlock Holmes series, the detective is unfriendly and arrogant, while in recent films Secret Agent 007, James Bond, has spells of depression.
Photo: Jörg Blum/Medienzentrum UB
Frau Falkenhayner, do people have to be concerned that at the moment you might be watching too much television?

Nicole Falkenhayner (laughs): No, not at all. I watch the series while I'm at work. When I'm not on the job, I enjoy doing other things.

When you think of English language and literature, Shakespeare's dramas and the novels of Virginia Woolf tend to come to mind spontaneously. Yet films and television productions apparently also play a role?

Yes, more and more so as a result of socio-cultural studies' access. It began in the 1970s, with British Cultural Studies and the emancipatory demands placed by that field. That's when more emphasis than ever before was given to popular culture relative to high culture. In the SFB's first funding phase, Barbara Korte's project investigated how heroic stories were told in Victorian magazines – then a form of popular media. The Victorian period was very heroic. It was characterized by heroism, in fact. Yet it also led to a democratization of the heroic. In principle, any man or woman could become a hero, rather than having to be a noble or in the military.

What are the characteristics of heroes in British TV series?
A hero is first and foremost an identification figure that does not necessarily have to continually perform heroic acts. Yet this is of course the case in the new Sherlock Holmes series. He is always saving people or foiling bombings. James Bond is the typical British super hero. Barbara Korte did a great deal of work with that character. He is also a good example for the marketing of positively connoted characters in British interests, with gadgets – such as the British flag, the Union Jack. And the Queen is literally Bond's employer.

What, precisely, is the meaning of heroic?

In the SFB, we don't operate using rigid definitions of the heroic or heroism. Instead, we work more with a variable series of characteristics and attributes of heroic figures. Heroes are people with a great deal of "agency," meaning that the power to act does not reside with a collective. Instead, it clearly belongs to this one figure. Aesthetic devices such as music or the "hero shot" – filming from an angle that's somewhat below eye-level – serve to characterize a hero. The new Sherlock is often depicted on top of tall buildings, with his eye on the city below, you could say in a hero's cape à la Batman.

Are there also "plainclothes" heroes?

Of course. Everyday characters can be heroized as well – no least in historic retrospectives. For example, the series "Call the Midwife" was very successful. Set in London's East End just after World War II, it tells the story of the midwives who brought the blessing of healthcare to the city. The humanity of these characters is what makes them outstanding. The attribute of heroism is in no way the exclusive preserve crime fighters.

Are there also ambivalent heroes – who have flawed or fractured personalities?

Sure. Nowadays, there's hardly a character who is depicted solely as positive. The heroes are often people with whom we can identify on the one hand – and on the other hand, not. The new Sherlock Holmes, for example, "isn't quite normal." He is excessively intelligent and, beyond that, a sociopath, who is always unfriendly and arrogant. Such sociopathic traits are being ever more clearly accentuated in contemporary adaptations. The heroes often have their dark sides. Some are even characters on a knife edge. They must decide: "Do I stay on the good side – or do I become my own foe?" These difficult, or rather, complexly characterized heroes open up far more creative opportunities with respect to drama and suspense.

Has the image of the hero changed quite a bit with time as a result?

Yes, indeed. It's not just that the characters have become more complex and suspenseful in and of themselves. A simultaneous trend towards the psychological can also be recognized, and sometimes, this extends towards the pathological. In the more recent Bond movies, the hero suffers from self-doubt and has depressive moods. The dissertation of Maria-Xenia Hardt will elucidate this transformation over time. Her topic is the series, "Dr. Who," which has been unbelievably successful in Britain. It tells the story of an extraterrestrial time traveler who appears again and again in new incarnations – now, even as a woman.

Have phenomena like Islamic terrorism and religious or ethnic conflicts changed the image of the heroic in the series?

Yes, very clearly. Observed in a broader context, we were able to determine that since the attacks on September 11, 2001, more and more of these figures are appearing – because people feel confronted with this new threat. In "Spooks," for example, there's something about radical Islam in practically every episode. The recent popularity of the spy genre is also undoubtedly related to that. And of course, technical surveillance methods are naturally included.

For historical reasons, the heroic is valued more highly in Britain than it is in Germany, says Nicole Falkenhayner.
Photo: Jürgen Gocke

Would you say that the British may have a greater need for heroes than other countries?

I think that for the British, there are historical reasons why the heroic is valued more highly. The key words here are Commonwealth – the largest empire in world history – and emerging victorious from the world wars. At any rate, telling stories such as these is far more a matter of course in Britain than it would be for us here – for good reason.
The SFB "Heroes – Heroizations – Heroisms" is hosting an international conference on heroizations in global popular culture.