Freiburg Students Help with Homework
Volunteers from the Studenten bilden Schüler e.V. association offers more than just tutoring to school children
Freiburg, Sep 10, 2021
Creating a network of disadvantaged children and students to offer a source of free tutoring – that's the goal of the non-profit association 'Studenten bilden Schüler'. In March 2021 Freiburg students Alina Jäger and Alena Röhrig set up a new branch of the association. This makes Freiburg one of 46 cities in Germany that are part of the network which was established in 2012. The difference with the association is that the students don't just see themselves as voluntary tutors providing additional help with learning, but want to build up good relationships with the school pupils and be someone to turn to with issues outside school as well. The association funds the necessary teaching material and enables shared leisure activities from donations. Franziska Becker talked to the two heads of the Freiburg branch about why they wanted to get involved with the network.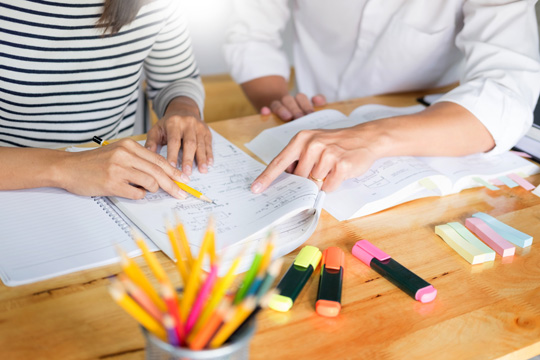 The association 'Studenten bilden Schüler' wants to create a network of disadvantaged children and students to offer a source of free tutoring. Photo: snowing12/stock.adobe.com
Although the Studenten bilden Schüler e.V. association has branches throughout Germany, the one in Freiburg is very new. Why did you set it up?
Alina Jäger: I saw in the news how hard school children are finding it at the moment, learning on the computer and being alone. It's especially hard for children whose parents can't help with their school work or who don't have the funds to support them. I wanted to help as a tutor, but there wasn't a branch here. So I asked the association if we could set one up.
Alena Röhrig: I've been working in child and youth work for a long time and wanted to continue to volunteer while I study in Freiburg. I read in the Psychology students' association newsletter that Studenten bilden Schüler needed someone as a media designer, so I became part of the branch management. In the beginning there was just the two of us, now four of us handle the organization here.
The association provides tutoring tandems for all kinds of school and all levels. How do you reach the school pupils?
Jäger: To make people aware of our services, we wrote to a lot of schools and social workers, but we also approached social organizations such as Caritas and the WIESE support group. This soon resulted in bringing together some school pupils with students.
Röhrig: We're hoping that in future we'll be able to cooperate with the youth welfare office and reach even more children we can support. We can see from other cities in the network that the demand is there. We also get advice from the teams in established locations on how they got through their first few months.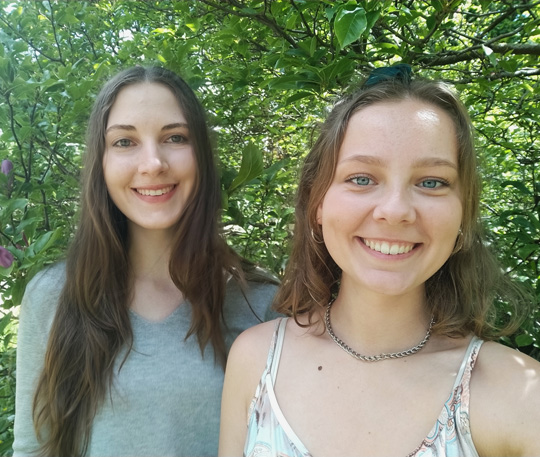 Alina Jäger (left) and Alena Röhrig (right) founded a new branch of the network in Freiburg in March 2021. Photo: Alena Röhrig
What makes your service different from the traditional tutoring?
Röhrig: Compared to other voluntary initiatives that are around, we're very flexible. There are no specifications, no guidelines and there's also no guarantee of success. Once a week a school pupil or apprentice and a student meet up for one or two hours to work on course work. But it's also important to us to strengthen the friendship with one another. We think that if school pupils and students get along on a human level it also improves learning outcomes. And since students can still remember their time at school well, it's easier to communicate with them than with parents or other adults.
Jäger: So our service consists of more than just tutoring. The people we match up can also spend their spare time together if they want – and the association will fund it. For instance they can go for an ice cream, to get to know one another away from the school books.
Are you looking for teachers from specific subject areas? I imagine student teachers would be very appropriate.
Röhrig: Naturally it's interesting for student teachers to get involved with us. They can gain practical experience. But teacher training isn't essential.
Jäger: Of course there are certain subjects which are especially in demand at the moment: Math, German and English. The students don't have to specialize in the subject, but they should have fun teaching it.
Röhrig: The most important thing for us is bringing together people who get on. Both sides should be happy. So we're also constantly checking up on the students and the school pupils.
'Studenten bilden Schüler' in Freiburg
Besides 'Studenten bilden Schüler' there are other initiatives at the University of Freiburg for disadvantaged children and teenagers:
▪ Arbeiterkind.de - Freiburg
▪ Initiative Schlüsselmensch e.V
▪ Studieninitiative für Kinder
▪ Uni für ale
▪ Weitblick Freiburg