Mental strength on the mat
Elena Brugger combines a wrestling career with Psychology studies
Freiburg, Dec 11, 2018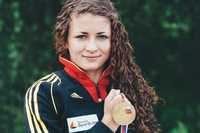 She is in her fifth semester of Psychology at the University of Freiburg - and became the women's World University Wrestling Champion in September 2018. Elena Brugger successfully reconciles her professional sport with her university studies.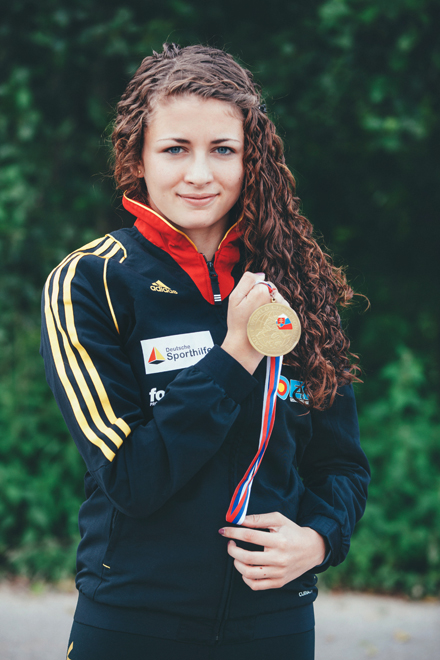 Elena Brugger took the gold at her very first World University Wrestling Championship. Photo: supplied by Elena Brugger
One last, brief consultation with her coach. The cell phone is off, the family is watching eagerly from home. Elena Brugger needs some quiet ahead of a competition - as little distraction as possible. Then - it's out onto the mat.
The 21 year old student took part in her first World University Wrestling Championship in the Brazilian city of Goiania in September 2018 - and took the gold medal. In the final round she triumphed in the freestyle up to 55 kilograms over Japanese wrestler Momoka Kadoya. She managed to come back from being 0:7 down to achieve a clear 13:7 victory. "In wrestling things stay exciting to the very end. I tried not to let myself get distracted and to keep believing I can win the fight," she says.
Brugger is in her fifth semester of Psychology at the University of Freiburg. She plans to follow her Bachelor's degree up with a Master's. What she'll do then she does not yet know. "But I can imagine going into the area of business," she says. Right after the World University Wrestling Championship - and sightseeing in Rio de Janeiro and Brasilia – she commenced a five-week internship in the personnel department of Sick AG in Waldkirch.
World champion at 21
Father, uncle, brother: Elena Brugger comes from a family of wrestlers. But the first time she stood on the mat herself, she never guessed that at age 21 she would be student world champion. She was just five when she began. At first it was just out of curiosity as to what her then-seven year old brother was doing; but then she was soon training regularly. At the local sports club in Adelhausen in southern Baden, her child's game soon became real ambition. She took part in her first competitions and won. In sixth grade she was identified as young talent at the Olympic training facility Freiburg-Schwarzwald.
From this point on she did additional training at her local club, then later, three to four times a week with her team at the Olympic training camp.  Sometimes it was tough to go to training in summer - when her friends were having fun at the pool. "But the sport just fascinated me from the word go. I never considered stopping or doing anything else." At some point it became difficult to go to school in her home district of Rheinfelden while traveling so frequently to Freiburg for training. So the then-16 year old switched to the Staudinger Gesamtschule in Freiburg, completing her high school education in 2015.
Tips for studying
For several years now she has been training about an hour and a half every morning and evening. In between training, Brugger goes to lectures and coordinates physiotherapy and consultation appointments at the Olympic training camp. But sometimes she does miss university dates. That happens if training camps or competitions are at the same time as compulsory classes or exams. For this reason she has redesigned her study plan with the help of careers adviser Jürgen Willrett from the Olympic training facility and her studies advisor Dr. Michael Scheuermann at the Institute of Psychology. They give her advice on which modules she can postpone and which classes she cannot afford to miss. And if her study plan is ever completely irreconcilable with training, she is allowed a certain number of extra absences or can write summaries of the lectures instead of attending.
The knowledge gained in her studies is a help on the mat. "Mental strength is a key factor in wrestling. In the last few semesters I was able to apply some strategies and techniques from my studies to competing in tournaments." And, going the other way, when she is competing, she often recognizes theories and patterns which were discussed in lectures. For instance, when her opponent speaks very fast or with a high voice before a bout, Brugger as a future psychologist recognizes nerves or even fear.
Mindful use of time
In her everyday life, the student gets a wide variety of reactions to her sporting activities. There are not many women wrestlers. And when it comes to her strictly-regulated timetable, sometimes other students are disappointed when she has to turn down an invitation to a party because of an important competition. "But most of them understand and support me in my aim of managing my studies and performance sport at the same time." She also enjoys spending time with friends - even if it's just a coffee between classes - all the more consciously.
It's not hard for her to get motivated for training. Especially when there is a lot to do for university and she has long study phases, her sport is a counterweight for Brugger.  And on the other hand, following physically exhausting competitions she finds it easier to concentrate on her studies. The next big challenge was in November 2018 - the U23 World Championship in Romania, where Elena Brugger won the bronze medal. Her recipe for success remains the same - there is strength in calm.
Pauline Grünewald