Break workouts
Video exercises from the Sports Department to keep desk workers fit
Freiburg, Jan 12, 2018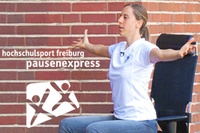 Your neck hurts, your back aches, and you're still feeling sleepy after your third cup of coffee. Sitting at a desk for much of the workday puts a lot of stress on your body. So why not just get up and work your muscles a little? With this in mind, the University of Freiburg has launched the project "Pausenexpress" (Break Express) to boost employee health. Several Pausenexpress fitness sessions are now also available online as video exercises that you can easily make a part of your workday. In the videos, Iris Jacobs, the head of the Pausenexpress program, demonstrates ways to relax and stay fit through short and easy exercises that can be done during breaks. And if the videos leave you wanting more, you can sign yourself and your colleagues up for a weekly Pausenexpress workout in the office.
f2bde9442a5f74da91104d690e5568d0
136fd03d83d8d0f94e462088e28d170c
4c2dc12e066589ba13ea2142e2470570
66c22ae4b5637b2328dd7f46f60446b5
Move your body!

The Sports Department (Allgemeiner Hochschulsport, AHS) will be offering the Pausenexpress program again starting February 20, 2018. The sports sessions last 10 weeks. Each group pays a one-time fee of €60. Registration starts in January. For more information regarding the registration deadline, please visit the AHS's website.