"Biohackers" – Filming for season 2
In November 2020 the film team will be back in Freiburg
Freiburg, Nov 10, 2020
The thriller "Biohackers" continues: The team from Claussen + Putz Filmproduktion will visit Freiburg once again in November 2020 in order to film several scenes for season two of the series.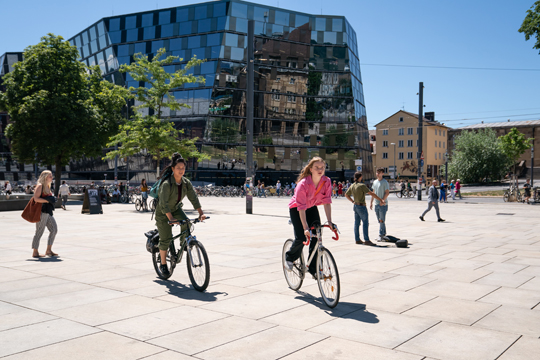 Scene from season one: the first-year medical student Mia in front of the University Library Freiburg. Source: Netflix
In August 2020 Netflix released the first season of the thriller "Biohackers." Shortly afterwards, the entertainment service announced a sequel to the series, whose plot is based in Freiburg and at the University of Freiburg. Filming is already underway - and in November 2020, the team of Claussen + Putz Filmproduktion from Munich, led by the two directors Christian Ditter and Tim Trachte, will be back in Freiburg to film scenes that will take place in front of some of the University buildings, among other places.
From the University of Freiburg's point of view, filming in public spaces - and thus also on University grounds - is compatible with the currently valid corona regulations. "We are delighted to have the film team from Claussen + Putz as our guests again. Unfortunately, due to the pandemic, this time we were unable to authorize interior shots and other uses of University buildings. However, in coordination with the city of Freiburg, we have done everything possible to ensure that at least the exterior shots can be done in order to contribute to the support of the cultural sector in these difficult times," says Rector Prof. Dr. Kerstin Krieglstein. "The filming does not interfere with University operations, and the production company has presented a convincing hygiene concept. There will be no downside for University members." In any case, there are only a few scenes to be shot on location. As in season one, most of them will be shot in a film studio in Munich. Season two of "Biohackers" is expected to be shown on Netflix in more than 190 countries as early as 2021.
Nicolas Scherger