University elections: Make an impact with one vote!
Participation in university elections is often low. Political scientist Thomas Waldvogel explains how to motivate people to take part
Freiburg, Jul 01, 2021
University elections are coming up. They'll be held online from 7 July until 13 July 2021. Students and matriculated doctoral candidates are eligible to vote for representatives to the senate and the large faculty councils. These governing bodies are important in representing the interests of students and university staff. Nevertheless, voter turnout is often low. Why is that? And how could more people be encouraged to cast ballots? Pascal Lienhard spoke about these issues with Thomas Waldvogel of the Department of Political Science. Waldvogel's emphasis is on election research and the methods and didactics of political education.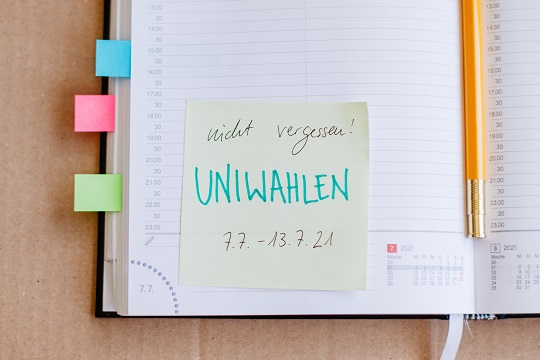 Mark your calendars: university elections run July 7-13, 2021. Photo: Sandra Meyndt
Mr. Waldvogel, last year, turnout for the university elections was 15.29 percent, while in the year before it was only 11.77 percent. Does this mean turnout at the University of Freiburg was exceptionally low?
Thomas Waldvogel: At first glance, the numbers seem frighteningly small. Yet that's not a problem that's unique to just Freiburg. At the majority of other German higher educational institutions election participation is also very low. Compared to all of Germany, Freiburg is somewhere around the low end of the middle. So voter turnout in Freiburg is consistent with the bigger picture.
What are the reasons for the low turnout?
The range of reasons is broad. Students frequently are in a group that German political scientists refer to as "second voters", which means it is the second time they are eligible to vote. The political participation of this group is frequently low. The students are away from their previous social surroundings and initially are looking for orientation and interaction in their new environment. What is more, in university elections, many of the things that characterize state and federal elections aren't there. I'm thinking of the affiliation with a party or candidate. And running for a position on one of the university's governing bodies isn't the only aspect linked with expending time as a resource.  To vote, you need time to analyze the issues and get enough information. Many students don't have this resource. Of course the actual organization of the poll plays a role as well. In the end, a combination of different factors results in low voter turnout.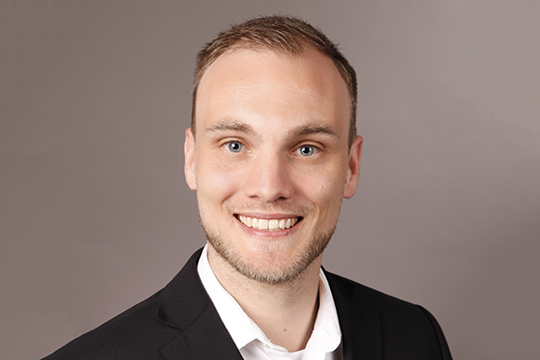 Political scientist Thomas Waldvogel sees a variety of reasons behind the low turnout in university elections. Photo: Ringfoto Löffler
What influence does a poll that's been organized online have during the time of a pandemic?
When it comes to elections, naturally aspects such as daily events and what's going on at the university have an impact. There are posters that remind people about the upcoming vote. I'm doubtful that the change in the way the vote is conducted will positively influence participation. Yet it is true, that in the online election held last year, turnout went up by around four percent. But that's not a really big leap. And in the elections for the state parliament in Baden-Württemberg in March 2021, the numbers were diminishing, for example. Many are sensing uncertainties -- the usual stable things have fallen away. That can effect voter turnout, too. At the same time, broader participation would, of course, be desirable.
What are the possible ways turnout could be improved?
Political education, for one, is key. It's important to know what the individual governing bodies do for students and what their significance is for me. It's also a question of what I can achieve with my vote. The tasks and work of the governing bodies have to be transparent. From my work as a specialist consultant at the state's central office for political education I also know how important factors such as the "wahl-o-mat" are when it comes to dealing with voting. Perhaps similar concepts can be introduced for university elections as well. Viewed normatively, it could also help to strengthen identity with the university or one's own discipline. Connections like that motivate people to engage more actively themselves.
University Elections 2021

Students and matriculated doctoral candidates are eligible to vote for representatives to the senate and the large faculty councils. The elections will be held online.

Election website (in German)