Foundation stone for the Upper Rhine
The Universities of Freiburg and Strasbourg laid the foundation for today's European Campus
Freiburg, Aug 08, 2017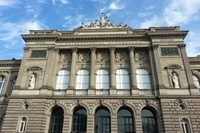 Photo: Université de Strasbourg
An international partner to exchange ideas about many fields with, that supports you with applications for funding programs and that collaborates on research and teaching in specialist areas: since 2010 the University of Freiburg has had a key strategic alliance with the University of Nagoya, Japan, as well as one with Pennsylvania State University in the USA and the University of Nanjing in China. In this series Claudia Füßler introduces our cooperations. This edition: the Université de Strasbourg in France.
Old allies: Without the partnership with the Université de Strasbourg today's European Campus would never have existed.
Photo: Université de Strasbourg
What distinguishes the key strategic alliance with the Université de Strasbourg is that it forms the basis for a far greater cooperation: Eucor – The European Campus links the universities of Basel, Freiburg, Haute Alsace, Strasbourg and the Karlsruhe Institute of Technology, and creates a cross-border higher education area – for studying, teaching and researching. "Without the key strategic alliance with Strasbourg," says Florence Dancoisne from the International Office at the University of Freiburg, "the European Campus would never have existed."
There have been individual cooperations in research and teaching in the Upper Rhine region – and especially between Freiburg and Strasbourg – for a long time. In 1989, in order to fund the joint work and communications, and provide support and advice to the ongoing cooperations, Freiburg and Strasbourg entered into an association with other universities in the Upper Rhine region: Eucor, the European Confederation of Universities of the Upper Rhine, was born.
Change of direction in 2008
However, by the start of the 1990s, the association had different goals and tasks – two new rectors provided a change of direction: Prof. Dr. Hans-Jochen Schiewer, who has headed the University of Freiburg since 2008, and Prof. Dr. Alain Beretz, who became President of the Université de Strasbourg in 2008. "This change was decided on as both rectors had great interest in cross-border cooperation and pushed it as a strategy for the future," says Dancoisne. In 2010 the key strategic alliance became official.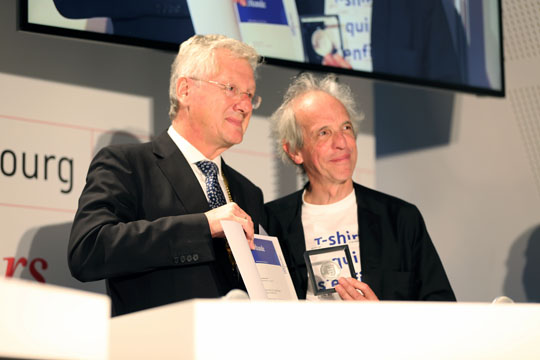 Hans-Jochen Schiewer (left) and Alain Beretz ensured a change of direction for the cross-border cooperation. Beretz received the University Medal of the University of Freiburg for his outstanding dedication.
Photo: Catherine Schröder/Université de Strasbourg
The exchange between students and teachers varies in intensity: from brief study visits here and there up to a degree program with dual degree – there are many facets to the cooperation. "Students like to attend the partner university just for one or two modules, which are then credited," Dancoisne reports.
Military accidents in Germany and France
Academic cooperation is also highly valued. Above all Freiburg and Strasbourg soon ensured that funding was available for joint projects between the Freiburg Institute for Advanced Studies (FRIAS) and its opposite number, the Institut d'Études Avancées de l'Université de Strasbourg (USIAS). Every two years several research initiatives receive funding in project rounds; the third round starts in October 2017. "It covers every discipline," says Dancoisne. "We're especially pleased that smaller subject areas such as Scandinavian studies can be supported too."
One such project at FRIAS is called "Soldiers out of control", which was jointly initiated by Freiburg historian Dr. Peter Itzen in autumn 2015. Together with his colleague Dr. Birgit Metzger on the German side and Prof. Dr. Anne Rasmussen on the French, Itzen researches accidents in the German and French military between 1920 and 1970. "We found out back then that quite by chance we were working on similar issues, so we thought it was a good idea to join forces," says Itzen. Geographic proximity was a major bonus. Furthermore the academic traditions of both Federal States were very different, so each side not only learned more about the other system, but also received highly practical help through the cooperation such as access to archives and contact with other French colleagues. "Cooperations like this are important to researchers, because they offer good networking opportunities which can benefit an academic career," says Itzen. The German-French project will be completed at the end of 2017 with a workshop and a publication – in English, so that the results can also be attract attention worldwide on the science scene.