Literaturhaus Freiburg to open
On 22 October 2017 southwest Baden-Württemberg launches a new venture in literature
Freiburg, Oct 19, 2017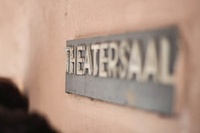 Foto: Sandra Meyndt
After a year and a half, the day is come - the Freiburg Literaturhaus opens its doors on 22 October in the new rooms at the Alte Universität, Bertoldstrasse 17.
"This gives literature its own, permanent place in the bookish city of Freiburg - a place where this long tradition can be anchored, experienced, and shown to the world. "Thanks to the close collaboration between the city and the University of Freiburg a long-felt want is now reality, and I am very excited about the new impetus which will emanate from this place in the heart of the city," says Freiburg's Mayor, Dr. Dieter Salomon at the opening.
"I am very happy that the Literaturhaus has found a new home at the Alte Universität and I believe there will be many synergies with Cultural and Literature Studies, student theater groups, and our efforts to translate science into literature. I wish Martin Bruch and the team from Literatur Forum Südwest e.V. a good start in their fascinating and varied program," says Professor Dr. Hans-Jochen Schiewer, Rector of the University of Freiburg.
The Literaturhaus hall, next to the lecture hall in the Rectorate building, has once again become a place for student theater groups to rehearse and perform.
The freshly-renovated theater in the Alte Universität boasts a new design, and the ceiling has also been completely revamped. One special new feature is the inductive sound system, which ensures the hearing impaired will be able to hear the performances more clearly. And a new ventilation system, a kitchen, and new sanitary facilities have been installed. The new Literaturhaus/ theater hall comprise some 260 square meters and 130 seats, as well as a storage room and offices in a side wing. With its central location in the heart of the town and close to the University, it gives the organizers, the Literatur Forum Südwest, a wide range of new opportunities.  For example, the Literatur Forum Südwest e.V. will this year stage the Freiburg literature discussion forum, which was previously run by the city authorities.
The renovation works were financed jointly by the University of Freiburg, the state of Baden-Württemberg, and the city of Freiburg. The city and the university each contributed 375,000 euros; while the state put in 150,000 euros.
The city of Freiburg put up another 65,000 euros for fittings and fixtures - a sum which was augmented with the help of the Literaturhaus Freiburg's society of friends, the Förderkreis Literaturhaus Freiburg e.V., partners and sponsors. Numerous private citizens from Freiburg also helped with the founding of the Literaturhaus by sponsoring seats.
The day-to-day running of the Literaturhaus will be made possible largely by the city of Freiburg's institutional sponsorship and payment of rental costs. The Literaturhaus program of events will be decided by the Literatur Forum Südwest e.V. team.


Contact:
Rudolf-Werner Dreier, Director of Office of Public Relations
University of Freiburg
Phone: 0761/203-4300, E-Mail: rudolf.dreier@pr.uni-freiburg.de

Stefanie Werntgen
Spokeswoman, Office of Communications & International Contacts
Freiburg im Breisgau
Phone: 0761/201-1010, E-Mail: stefanie.werntgen@stadt.freiburg.de