Decolonising Global Partnerships in Higher Education
Sustainable Development Goals University Day at the University of Freiburg under the banner of the United Nations' 17th Sustainable Development Goal (SDG) - Keynote by Science Minister Petra Olschowski
Freiburg, Jun 16, 2023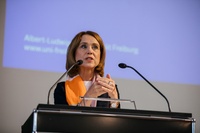 Petra Olschowski. Photo: Sandra Meyndt/University of Freiburg
This year's Sustainable Development Goals (SDG) University Day organised by the state of Baden-Württemberg took place on June 16, 2023 at the University of Freiburg. In the spirit of the 17th Sustainable Development Goal (SDG) of the United Nations "Partnerships for the Goals," University members and politicians discussed in the auditorium the guiding question of how global partnerships in higher education can be decolonised. In her keynote speech, Petra Olschowski, State Secretary at the Baden-Württemberg Ministery of Science, emphasised that the state of Baden-Württemberg is committed to its responsibility in decolonisation and is advancing related aspects such as provenance research and the restitution of cultural property and human remains. Prof. Dr. Kerstin Krieglstein, Rector for the University of Freiburg, clarified the role of the Sustainable Development Goals (SDGs) at the University of Freiburg and emphasised with regard to SDG 17 that the expansion of cooperation with partners from the "Global South" would be beneficial in order to achieve global sustainability goals. Dr. Grace Diabah, Co-Director Ghana at the Merian Institute for Advanced Studies in Africa at the University of Ghana, pointed out that global university collaborations continue to face multiple problems and that African universities expect more willingness from German authorities to solve them.

Responsibility of the state of Baden-Württemberg for decolonisation
In her keynote speech, Olschowski said, "Decolonising partnerships between countries requires a fundamental will for equality, transparency and openness: only when old patterns are recognised, understood and replaced can trust and reliability be built credibly and over the long term. The state of Baden-Württemberg acknowledges its responsibility: In the coalition agreement, the governing parties pledged to drive forward the internationalisation of universities, the joint fight against climate change, and provenance research and the associated restitution of cultural assets and human remains - and to do so together with representatives of the respective societies of origin. Digitisation offers us a great opportunity here to democratise knowledge, build cultural and technical competencies, and thus distribute knowledge more evenly. Universities have a key role to play here. The University of Freiburg recognised the importance of decolonisation early on and embraced it in exemplary fashion."

Expansion of partner cooperation from the "Global South" essential
In her speech, Krieglstein emphasised that the internationalisation of universities and the expansion of cooperations, especially with partners from the "Global South," is beneficial in order to achieve global sustainability goals. "In order to develop sustainable solutions, diverse approaches and different perspectives are needed. Cooperations with universities and researchers from the "Global South" not only increase the quality of research, but also promote dialogue on controversial approaches to solutions. That is the reason it is a central concern for the University of Freiburg," Krieglstein said.

Global university cooperation still faces challenges
Diabah pointed out the various challenges that global university cooperation still faces, such as the rejection of visa applications for researchers from the Global South, little or no consideration of local dynamics, high bureaucratic costs, a lack of willingness to fund certain expected services, or non-transparent allocation of funds. "Cooperation based on partnership should recognise and value each other's expertise and experience. It needs trust, respect and reciprocity. But especially at the institutional level, these basic pillars are sometimes absent. African universities expect much more dynamism in their cooperation with German agencies and a willingness to find solutions instead of hiding behind often incomprehensible regulations," Diabah said.

Pressphotos for download
 

Petra Olschowski. Photo: Sandra Meyndt/University of Freiburg


 

 

Kerstin Krieglstein. Photo: Sandra Meyndt/University of Freiburg


 
 

Grace Diabah. Photo: Sandra Meyndt/University of Freiburg


 

 
Contact:
Office of University and Science Communications
University of Freiburg
Tel.: 0761/203-4302
e-mail: kommunikation@zv.uni-freiburg.de