Learn. Be Amazed. Join in.
The first digital Freiburg Science Market starts on 7 June 2021
Freiburg, Jun 04, 2021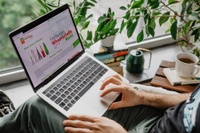 This year the organizers are transmitting the Science Market to visitors' screens. Photo: Sandra Meyndt
Videos, podcasts, live-streams: the Freiburg Science Market will be an online event this year. From June 7th to 26th, 2021, on the Science Market website, the curious and enthusiastic can discover the many ways in which researchers in the Freiburg region are investigating major social questions and challenges.
Universities, non-university research facilities and research-focused companies from the region will be presenting a diverse range of activities on their digital stands: for example, the University of Freiburg's Centre for Integrative Biological Signalling Studies – CIBSS Cluster of Excellence together with the Max Planck Institute of Immunobiology and Epigenetics are organizing a virtual pub quiz round on cellular sciences. On two evenings the Fraunhofer Society is inviting people to take part in an online escape game, where teams attempt to solve a variety of riddles before time runs out. The uniCROSS student editorial team at the University of Freiburg will talk about its training in editorial skills via live stream, and the Freiburg Institute for Advanced Studies (FRIAS) will present a panel debate on the subject of Social Media and Science Communication.
Besides the live formats, over the period of the event there will also be a wide range of presentations available on the website covering the fields of medicine and health, computer science and technology, science, the environment, culture and society, and business and law. New highlights will regularly be presented under the 'Thema im Fokus' heading. In addition users can navigate to individual exhibitors and their stands via an interactive map.
Prof. Dr. Kerstin Krieglstein, rector of the University of Freiburg, emphasizes the importance of the three-week event, "With this online version of the Science Market we are drawing on the advantages of digital formats to bring science and research closer to members of the public in a transparent and vivid way. This openness benefits trust and understanding of scientific work."
The University of Freiburg is organizing the Science Market together with the tourist office, Freiburg Wirtschaft Touristik und Messe GmbH & Co. KG (FWTM). Head of FWTM Hanna Böhme declares, "We're delighted that almost 40 exhibitors will be taking part in the Science Market and demonstrating the versatility of Freiburg as a center of research."
This year the market also forms part of the project to celebrate the 900th anniversary of the city, which is entitled 'Freiburg 20/21 – gemeinsam.weiter'. The corona pandemic had led to the organizers postponing the Science Market from June 2020 to June 2021 to protect the health of those involved and the general public.