Interesting facts about plants from remote regions
The University of Freiburg's Botanical Garden is launching an exhibition in June 2021
Freiburg, Jun 10, 2021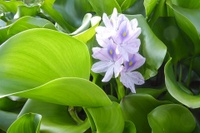 Water hyacinth. Photo: Marianne Lauerer
The week 12-20 June 2021 is dedicated to Botanical Gardens throughout Germany, looking at plant migrants under the theme 'Neue Wilde – Globalisierung in der Pflanzenwelt'. The University of Freiburg's Botanical Garden is taking part with an exhibition about non-native, introduced plant species, known as neophytes. The exhibition will take place outdoors in the gardens. Starting from June 12, the exhibition is open for several months between the hours of 8 a.m. and 6 p.m. to anyone who would like to visit. No registration needed. The exhibition is free.
Plants can travel far faster and farther than their biological propagation mechanisms can manage. With the aid of humans and modern transport plants overcome natural barriers. Many deliberately or accidentally introduced plant species can settle permanently in their new home. Some occupy urban habitats that are not used by native species and contribute to greening and a pleasant city climate. In natural and seminatural habitats however newly-introduced species can spread to the detriment of native flora, push out original species and upset the fine balance of the various local flora and fauna.
Wanted posters and information panels
The exhibition at the Botanic Garden explains interesting facts about how plants traveled and specific characteristics. The show also looks at the importance of botanical gardens and private gardens as a nucleus for the spread of neophytes as well as the risks and opportunities offered by new plant species, using 'wanted posters' that describe the plants, and information panels.
Safety requirements during the pandemic mean that all visitors are required to wear an FFP2 mask and maintain distance to people not in their group. If circumstances permit it, the Botanical Garden team hopes to offer guided tours to the exhibition.