Continuing education in Museum Studies
The University of Freiburg has published the final report on the "museOn" project, furthering content in various formats
Freiburg, Mar 03, 2021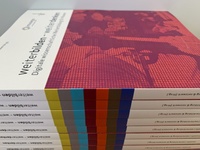 The publication "weiterbilden – weiterdenken" (education further – think further) provides an overview on the backgrounds, content and results of the digital museum academy. Photo: FRAMAS
Museums, collections and exhibitions are repositories of knowledge and memory. Interested parties can learn how to care for these places in the scientific continuing education program "museOn" offered by the Freiburg Academy of Museum, Exhibition, and Collection Studies (FRAMAS) at the University of Freiburg. The study program, consisting of online and in-person courses, is aimed at people who work or want to work directly in or in the environment of museums, collections, and galleries. museOn came into being thanks to funding from the Federal Ministry of Education and Research's "Advancement through Education: Open Universities II" competition. FRAMAS has now published a freely available digital final publication that highlights the development and impact of the continuing education program during the project period from 2014 to 2020.
The publication provides an overview of the stakeholders, backgrounds, content and results of the digital museum academy into which museOn has developed. "The most important task of museOn is to promote awareness about how to unlock the potential of exhibitions, collections and museums," says Toni Charlotte Bünemann, head of the Department of Continuing Education at the University of Freiburg. At the moment, courses include teaching about cultural and natural heritage, conceptualization and megatrends in the museum sector, and the impact of exhibitions. 
"The general consensus is that this project has provided a treasure trove that is of extraordinary benefit to numerous stakeholders in both museums and cultural institutions, as well as in professional continuing education," says Toni Charlotte Bünemann. As a result, museOn will continue beyond the project's official coompletion. The professional content available in museOn in the form of digital materials and teaching expertise will be adapted, among other things, for the planned Bachelor's minor in Museum Studies. In addition, in the coming semesters, the University of Freiburg's continuing education program will continue to offer online continuing education courses that can be flexibly combined and that those interested can take.
museOn
museOn enables in-service training in one or more subfields of museum work, combining the advantages of face-to-face events and e-learning. The museOn modular system contains more than 50 different courses. These are assigned to five modules that correspond to the central areas of museum work: Exhibiting, Mediating, Managing, Marketing, and Collecting. During the project period, 405 people studied with museOn. In addition, museOn cooperates with municipal, regional and national partners as well as the museum institutions of the state of Baden-Württemberg.
 museOn Website | continuing education & network (German only)
Register for museOn modules (German only)
Project's final publication
Backmeister-Collacott, I., Hutz-Nierhoff, D., Menschner, A.-S., Thiel, S. (2020). Weiterbilden – weiterdenken. Digitale wissenschaftliche Weiterbildung für Museen. (education further – think further. Digital academic continuing education for museums) museOn | weiterbildung & netzwerk (continuing education & network). Freiburg Academy of Museum, Exhibition, and Collection Studies (FRAMAS). DOI: 10.6094/UNIFR/170210
Contact:
Toni Charlotte Bünemann
Department of Continuing Education
University of Freiburg
Tel.: 0761/203-8848
wiss@wb.uni-freiburg.de