University Library closed due to corona case
The closure applies until further notice – in the meantime, users have access to other learning locations and literature in electronic form
Freiburg, Mar 13, 2020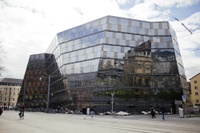 Photo: Sandra Meyndt
An employee of the University Library Freiburg (UB) tested positive for the corona virus on the evening of March 12, 2020. The Rectorate of the University of Freiburg has therefore decided to close the University Library for the time being until the responsible health authorities have assessed the situation.
The UB has compiled a list of contact persons and informs them that they should be quarantined and inform the public health authorities. The Rectorate asks all persons who have worked in the media centre of the UB in the past 14 days to avoid close contact with other persons if possible.
Access to the lockers will be organized in the following manner: Users can register with the security service of the University Library by calling 0761/203-3919. On Friday, 13 March, until 12 pm and on Saturday, 14 March, from 8 am to 6 pm, two security guards will be at the cafeteria entrance. They will let people into the building one after another and accompany them to the lockers. On Sunday, 15 March the University Library will be closed. On Monday, the situation will be reevaluated.
The University Library team is still working hard to find a solution for the most urgent concerns - including the question of how to ensure the supply of literature as seamlessly as possible. The more than 60 decentralized libraries of the University of Freiburg are open to students as places of learning. Whether this can remain so depends on further developments and the assessments of the responsible health authorities. In addition, a large part of the literature is also available in electronic form.
(updated on 13 March 2020, 11.30 am)
University Library Freiburg
www.ub.uni-freiburg.de
Guidelines and recommendations
http://www.uni-freiburg.de/universitaet-en/corona