Let's talk about 89
The Website "89goespop" presents representations of the fall of the Berlin Wall and the change in popular historical culture
Freiburg, Nov 03, 2020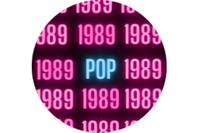 On the new website "89goespop", the team headed by the historian Dr. Anna Lux from the University of Freiburg offers an overview of the diverse representation of the German reunification year 1989 in popular historical culture in the form of feature films, TV series, novels, comics, hits or hip-hop. Based on the categories music, digital, film and literature, the researchers present the researched material, embed it in its context and provide analyses of the topic.
The website is part of the project "Das umstrittene Erbe von 1989" ("The Controversial Heritage of 1989") funded by the Federal Ministry of Education and Research and carried out by the History Department of the Albert Ludwig University and the Institute for Cultural Studies at the University of Leipzig. The researchers are investigating how the events of 1989 shape the present and are related to contemporary political and social ideas. The Freiburg subproject focuses on popular representations of the year of the fall of the Berlin Wall, explains Lux, "because they are also relevant to research on the culture of remembrance, they also shape our images of history and the historical consciousness among broad sections of the population."
The team headed by the Freiburg historian will continuously expand the website. The current focus is on the field of music, an area that has not yet been explored as a medium of remembrance culture in 1989. The music that refers to 1989 can be quite different: There are the so-called "Wendelieder," which were written when nobody thought the Berlin Wall would fall and which then became the soundtrack of the time. There are also songs that were written in the context of the events themselves and explicitly refer to the fall of the Berlin Wall. Other songs focus on the effects of reunification and negotiate political, social and cultural challenges and difficulties. Like the themes, the genres vary: the website presents hits and pop music, punk, rap and techno. Those interested can download and listen to the music on compiled playlists.
With this Website, Lux's team wants to make the topic accessible to a broad audience. One area of application is the work at schools and in historical-political education. At the same time, Lux emphasizes, the Website is a project in progress: Her team is therefore happy to receive additions and comments. The team can be reached via the following e-mail address: 89goespop@web.de