How Will People Get Around in Future?
A survey on mobility practices addressing people in Freiburg and its surrounding area a say
Freiburg, Jul 17, 2020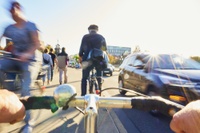 Photo: upixa/stock.adobe.com
Crowds in the "S-Bahn," searching for a space in the parking garage, or a flat tire on a bicycle tour – mobility isn't always straightforward, but moving opens lots of opportunities. It's closely linked to questions about quality of life and a sense of well-being. How will mobility change in future? In which areas will self-driving vehicles prevail? How will new technologies change our daily routines? Professor Tim Freytag of the Institute of Environmental Social Sciences and Geography of the University of Freiburg and Professor Stefan Gössling of Lund University in Sweden would like to get a more detailed picture of current mobility routines and expectations about how transportation will change in future in different populated areas. Part of their research project – "Mobilität im Alltag: Aktivitäten, Einschätzungen und Perspektiven" (Everyday Mobility: Activities, Assessments and Perspectives) – involves a questionnaire.
The online survey will be launched on 18 July 2020 and can be completed until 30 September 2020. At the same time, printed questionnaires will be distributed in selected Freiburg city districts and in some communities in the surrounding area. Individuals aged 18 and over are being asked to take part in the survey by describing their routines for getting around, the things about their mobility they'd like to see changed, and making suggestions for improvements.
The project should help the researchers become better acquainted with the population's diverse habits, desires, and expectations with respect to the transportation on offer. "Mobility changes according to at what stage a person is in life, type of household, address, and individual needs and preferences," explains Freytag. "We're hoping to get informative results," his research partner, Gössling, continues, "results that can be used for developing new transportation concepts." Both researchers aim to introduce the wishes and suggestions they gather in public debate to ensure that they can be taken into greater consideration by planners and policymakers in future.
Online survey available from 18 July until 30 September (in German)  

Project: "Mobilität im Alltag: Aktivitäten, Einschätzungen und Perspektiven" (in German)