How local authorities can adjust to climate change
Six towns and districts in Baden-Württemberg are taking part in pilot projects run by the University of Freiburg
Freiburg, Jul 14, 2020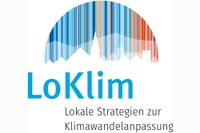 Whether it's heavy rain, floods, droughts or increasing numbers of deaths due to heat - the consequences of global climate change are becoming increasingly apparent in Baden-Württemberg. Six small and medium-sized municipalities are actively seeking to meet the challenge. The towns of Böblingen, Bad Krozingen and Kehl, and the administrative districts of Böblingen, Bodenseekreis and Enzkreis are participating in on-site workshops in the "Local competence development for climate change adaptation in small and medium-sized municipalities and administrative districts" (LoKlim) project. Seven other towns are supporting the project as network partners: Emmendingen, Freiburg, Lahr, Mannheim, Offenburg, Rastatt and Waiblingen. At the launch, which will take place on 15 July 2020 in the form of a video conference, all participants will meet for the first time. The three-year project is based at the Institute of Environmental Social Sciences and Geography at the University of Freiburg and was developed at a planning workshop together with those working in the field. The German Environment Ministry is sponsoring the initiative to the tune of nearly 300,000 euros as part of its Strategy for Adaptation to Climate Change (DAS).
How local institutions and actors can best adapt to climate change depends on the impact it has in the locality, the human and financial resources, and other local conditions. The LoKlim project aims to support the relevant planning and its implementation in the participating municipalities. On the one hand, the aim is to be better prepared for primary climate change risks such as drought or heat waves. On the other hand, secondary risks must also be taken into account - such as supply bottlenecks and cancelled or delayed services as a result of temperature increases and heat stress.
In the long term, forward-looking adaptation to future climatic conditions could also help to reduce costs, for example in road construction or water and waste disposal infrastructure. However, climate adaptation is an interdepartmental task and affects many different departments in local government; this is a complicating factor. It requires an integrative outlook - often difficult to achieve, especially for small organizational units. The objectives of the Freiburg research team led by Hartmut Fünfgeld, Professor of Geography of Global Change, and Project Manager Stefanie Lorenz are therefore to develop measures and strategies together with municipal partners that could serve as a model for other cities and districts at state and national level, and to provide scientific support for these processes.
Further information