Top Result at the Faculty of Medicine
Freiburg students take first place nationally in medical examinations
Freiburg, Feb 15, 2019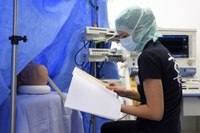 Student Training Center of the Medical Faculty. Photo: Thomas Kunz
Medical students at the University of Freiburg have achieved top results nationwide in the second stage of the medical examinations. Each year, thirty-seven faculties of medicine from across Germany take part in the examinations – students from the Freiburg faculty took first place, followed by students from the University of Mannheim and the Rheinisch-Westfälische Technische Hochschule Aachen (RWTH), which took second and third places respectively.
Medical studies consist of a first and a second stage, plus a clinical internship year. There is an examination once stages 1 and 2 have each been successfully completed, and these are held under standard conditions at up to 37 faculties of medicine. In October 2018, the Freiburg medical students took the examination for the second stage. Freiburg students placed sixth nationwide in the first stage of the medical examinations in August 2018 (only 31 faculties take part in this stage).
In comparison: in autumn 2017 the Freiburgers took 10th place in the first stage and 6th place in the second, while in the spring of 2018 it was 9th place and 2nd place respectively.
Contact:
Prof. Dr. Petra Hahn
Management of the Academic Dean's office at the Faculty of Medicine
University of Freiburg
Tel.: +49 761 270 72430
e-mail: petra.hahn@uniklinik-freiburg.de