The free spaces of others
Freiburg researchers created an interactive map for leisure sites
Freiburg, Jul 05, 2019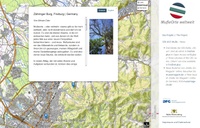 Authors can share their personal leisure sites with this interactive map. Photo: SFB 1015 Muße
The Acacus Mountains in the Libyan desert, the small port town of Penarth in Wales and the Academic Film Club in Freiburg have something in common: they are all places where people have found leisure (otium). With the project "Places of Otium – Worldwide", a team from the Collaborative Research Centre (CRC) 1015 "Otium: Boundaries, Chronotopes, Practices" at the University of Freiburg has published an interactive map with texts and pictures providing an overview of such sites. People from different social and professional contexts, as well as students and researchers, have written contributions for the project and report on their personal spaces of leisure. The project should continue to grow - so suggestions for contributions are welcome.
"Places of Otium – Worldwide" makes subjective leisure experiences and the spaces associated with them a multimedia experience and invites visitors to explore. Visitors to the site learn not only where these places are located, but also what makes them special for the authors. The focus is on the question: What understanding of everyday life do people have of leisure and how is this reflected in their dealings with places? The contributions are supplemented by interviews with CBC researchers. Their scientific perspective frames the contributions and is intended to stimulate reflection on the topic.
The CRC 1015 examines cultures of leisure and focuses on the social and socio-political aspects of the topic. While the first funding phase from 2013 to 2016 focused on historical objects such as leisure and gender in 19th century Russia or Roman letter literature, the current 15 sub-projects of the second funding phase are increasingly devoted to contemporary phenomena. Research on leisure courses in the field of self-optimization or psychological studies on leisure spaces contribute to today's debate on the provision and use of temporal resources. In the transfer project "Mußeum - Museum of Muße and Literature Baden-Baden" the research results for the new conception and redesign of the Baden-Baden Literature Museum will be put into practice.
For more information about the Collaborative Research Centre Otium