The embodiment of leisure
Collaborate Research Centre at the University of Freiburg organizes conference with lectures, discussions and framework program
Freiburg, Sep 19, 2019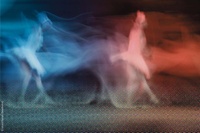 Source: jstock/ tunart
The Collaborative Research Centre "Otium. Boundaries, Chronotopes, Practices" at the University of Freiburg is organizing a conference from October 13-16, 2019. The conference is entitled "The Embodiment of Leisure: Interdisciplinary Perspectives on the Relationship between Body, Physical Well-Being and Leisure." Participants will exchange views on various aspects of the physicality of leisure through lectures and discussions ranging from artistic body performances to current phenomena such as self-optimization and general questions pertaining to body research. The conference will also provide a framework program including a concert and film screening. The conference is geared toward the general public and will be held in German. Online advance registration is required for all events.

Kick-off evening with Sven Helbig and Stefan Lorenz Sorgner
Sunday, October 13, 2019 at 7:30pm
Peterhofkeller, Niemensstraße 10, 79098 Freiburg
Composer and producer Sven Helbig will present his work "I Eat the Sun and Drink the Rain," which combines choral sounds with a synthesizer. He has already performed at the Barbican Center in London, England, the Elbphilharmonie in Hamburg, the Alexandrinsky Theater in Saint Petersburg, Russia and the Reina Sofia Hall in Madrid, Spain. Afterwards, the philosopher Prof. Dr. Stefan Lorenz Sorgner will give a lecture on the topic "True mindfulness and the non-totalitarian synthesis of the arts."

Film showing Müdigkeitsgesellschaft (Fatigue Society) and panel discussion
Tuesday, October 15, 2019 at 7pm
Kommunales Kino, Urachstraße 40, 79102 Freiburg
In her film, director Isabella Gresser accompanies the philosopher and journalist Byung-Chul Han, whose work has contributed greatly to the debate about performance-driven societies. In the following panel discussion Prof. Dr. Ulrich Bröckling, Dr. Marion Mangelsdorf and Dr. Jochen Gimmel from the University of Freiburg as well as Prof. Dr. Ruth Hagengruber from the University of Paderborn will discuss Han's current diagnosis and its relation to leisure. Reduced entry costs 5 euros. The regular price is 7 euros.
For more information and the conference program