Quantum physics and information technologies
Press conference at the first Fall Meeting 2019 of the Deutsche Physikalische Gesellschaft (DPG, German Physical Society)
Freiburg, Sep 12, 2019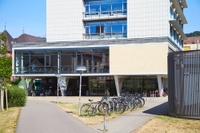 Photo: Harald Neumann
Dear Sir or Madam,
From artificial intelligence to the first platforms for computing using quantum computers: the first Fall Meeting 2019 of the Deutsche Physikalische Gesellschaft (DPG) will be looking at quantum and information technologies at the cutting edge of fundamental research and practical orientation. Several hundred experts from all around the world will take part in the meeting, which takes place from 23rd to 27th September 2019 at the University of Freiburg. The meeting offers a forum for the exchange of ideas between solid-state, nuclear and molecular physics, information sciences and quantum technologies, academic and industrial research, and academic teaching, didactics and practical schooling. At a
press conference on Monday, 23rd September 2019, 10.30 a.m.
at the Haus 'Zur Lieben Hand',
Großer Saal, Löwenstraße 16, 79098 Freiburg
the following scientists will report on the current status of research: Prof. Dr. Andreas Buchleitner, Department of Quantum Optics and Statistics at the Institute of Physics of the University of Freiburg, speaker for the Atomic, Molecular, Plasma Physics and Quantum Optics section of the German Physical Society (DPG) and local meeting chair; Prof. Dr. Harald Weinfurter, speaker of the program committee, Ludwig Maximilian University of Munich (LMU); Prof. Dr. Dieter Meschede, president of the DPG; Prof. Dr. Tommaso Calarco, member of the Quantum Community Networks (QCN) of the Quantum Flagship Initiative of the European Union, and professor at the Peter Grünberg Institute of Quantum Information at the Forschungszentrum Jülich; and Dr. Maria Schuld, Xanadu, Toronto, Canada and University of KwaZulu-Natal, Durban, South Africa, guest speaker at the meeting.
Yours faithfully,
Nicolas Scherger
Press and publicity work
More information from
Media contact is Gerhard Samulat, Tel: +49 2224 9232-33, Mobile (during the meeting): +49 1577 40 35 823, e-mail: presse@dpg-physik.de