Poetry from the Far North
Linguists and literary scholars from the universities of Freiburg and Bielefeld present two new works from the Samica book series
Freiburg, Oct 17, 2019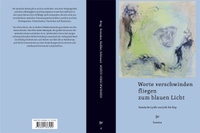 At 484 pages, the anthology is one of the first really comprehensive collections of Sami poetry.
Sami poetry from joik to rap: researchers from the University of Freiburg and Bielefeld have compiled a collection of Nordic poetry from a wide variety of eras of Sami literature from Norway, Sweden, Finland and Russia. The anthology "Worte verschwinden / fliegen / zum blauen Licht" will be presented at the Frankfurt book fair in the presence of Sami poets from Norway on 17 October 2019. "At 484 pages, it is one of the first really comprehensive collections of Sami poetry," says associate professor (PD) of Scandinavian Studies Dr. Michael Rießler of the University of Freiburg, who edited the work in cooperation with literary scholar Johanna Domokos from the University of Bielefeld and translator Christian Schlosser from Berlin. The project received funding of 22,000 euros from NORLA, Norwegian Literature Abroad, and will appear in the Samica series of books.
All the poems are presented in parallel in German and in the original language. "The texts include both written poems and texts such as joiks and other songs that have been passed down orally," says Rießler. There is also an in-depth essay on Sami literary history, brief biographies of all the poets, and an index of all the place names and untranslatable words that occur in the texts. Also new to the Samica series and published by the University of Freiburg is the book "Johan Turi – Ein Bühnenstück mit einem Joik von Áilloš" This gives the German translation of the play by Harald Gaski and Gunnar H. Gjengset about the life of the first author to write in one of the Sami languages. The book is being released to coincide with the performance of the same play by the Sami national theater Beaivváš as part of the HOUSE OF NORWAY art exhibition in Frankfurt am Main.
Samica is a multilingual and interdisciplinary book series with volumes on the language, literature and cultures in Sápmi, the area where the Saami have settled, which covers parts of Finland, Norway, Sweden and Russia. The series is designed for both academic and non-academic readers and aims to cover a broad spectrum – from the results of research through teaching materials to literary texts in the original language and in translation. The series primarily receives financial support from the Nordic countries.

More information about the series and research:
http://saami.uni-freiburg.de/samica
www.skandinavistik.uni-freiburg.de/forschung/forschungsprojekte/saami