More flexibility for bank employees
The MASTER project shows how increasing availability can open up creative new solutions.
Freiburg, Apr 09, 2019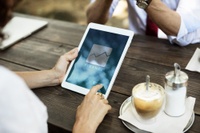 Photo: rawpixel/Pixabay
A survey of more than 300 employees of two banks showed that around half of them takes a work-related call, writes emails or reads work-related messages at least once a week on their own time. The interviews and online survey were part of the project "MASTER," an acronym for 'managing constant availability,' sponsored by the German Ministry of Labor and Social Affairs within the framework of the New Quality of Work Initiative (INQA) and supported by the German Federal Institute for Occupational Safety and Health.
"The comparison with surveys in the IT sector shows that availability at the two banks is still in the early stages," according to psychologist Dr. Nina Pauls of the University of Freiburg project team. "That becomes very clear when we look at the rather short time taken up by contact in the employees' free time." For some years now, the banking sector has been characterized by the increasing duty to document and explain all business, by growing competition and the closure of branches, and a more intense workload due to personnel cuts. That makes it look inevitable that the demand for availability and flexibility on the part of employees is set to increase. "We are introducing a contract for 'mobile work' for more flexibility in the choice of working hours and work location. This makes us a more attractive employer and we still get everything done which needs to be done," says Oliver Mebus, chairman of the Stadtsparkasse Oberhausen, which is participating in the MASTER project. "We want to accompany our employees through this process and to work with them to find out, for example, how enquiries could be dealt with in their free time," board member Thomas Gäng adds.
Stadtsparkasse Oberhausen employees took part in two workshops with the Universities of Freiburg and Hamburg to work out the rules for availability. And although many of those participating have rarely been confronted with availability issues, they were able to formulate suggestions as to how it could work. "We want to develop rules to determine which emails are really necessary and who we should send them to," says one participant. "And we want to clarify as a team just who wants to be available for enquiries in their free time and who doesn't," she adds. Another important goal is to reduce the heavy workload and to organize the day so that tasks can be completed during formal working hours. The workload of employees with specialist knowledge should be cut by describing the process and passing on that key knowledge. And if it does happen that someone has to work on their own time, they should get that time back. That will mean changing the business culture. "We have to develop ideas as to how we can make these rules and proposals we've discussed work in practice. For that we have to go down new roads; perhaps using employees' testimonials or by working out our own set of rules," says Thomas Zimmermann, works council chairman at the Stadtsparkasse Oberhausen, who took part in one of the workshops.
Whether the balancing act between meeting formal requirements and achieving more flexibility for employees succeeds - and whether the measures are implemented effectively - will be reviewed in an online survey and group discussions in autumn 2019. As a final product, the bank findings will be compared with the results of earlier business case studies. The MASTER project also provides guidelines for interested businesses about how to conduct an employee survey on availability, and it offers workshops on how availability can best be organized.