Exhibit on street art and artificial intelligence
The project "City Wall Research" presents collective works from art and research
Freiburg, Sep 04, 2019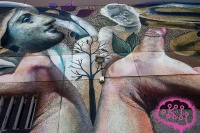 Robots which learn emotions: Artist Sare uses her mural to illustrate the work of computer scientist Yukie Nagai. Photo: Minz&Kunst
Care-taking robots, a "black box" and computer systems that learn to interpret facial expressions are some of the themes in the artworks realized for the project "Stadtwandforschung: Künstliche Intelligenz und Streetart" (City Wall Research: Artificial Intelligence and Street Art) at the University in cooperation with the Kulturaggregat e.V. in Freiburg's city center. Five artists from the field of street art -- Innerfields, Mr. Woodland, Smy und Fritz Boogie, Marc C. Woehr and Sare -- exchanged ideas with researchers from the fields of computer science, robotics, ethics and medicine and presented their impressions of AI and robotics on Freiburg facades. Interested visitors can find out how the works were created and what people and themes are behind them in the exhibition at Kulturaggregat e.V., Hildastraße 5, 79102 Freiburg. The results of the project are collected there in the form of photo prints, interactive exhibits and videos.
The exhibit will open on September 14, 2019 at 6pm. The Freiburg musician Zweatlana will begin performing at 9pm. Visitors can stop by until 12 October 2019 during the Kulturaggregat's usual opening hours on Mondays and Wednesdays from 3 pm to 7 pm and Saturdays from 1 pm to 6 pm. Admission is free and the exhibition texts are available in German.
The accompanying program offers visitors plenty of opportunities to learn more and to engage in various activities. On September 21, they can participate in workshops about robotics and stencil art that uses templates for street art. Participation is free, but registration is mandatory. To sign up for the robotics workshop, please contact Reto Schölly, reto@reto-schoelly.de; for the stencil art, please contact Steffen Heisch, stefen@kultur-aggregat.de.
In cooperation with the "KI Science Film on tour" in Karlsruhe, short films will be shown and discussed at the "Reality Check" in the Kulturaggregat on September 28th at 8 pm. From September 16 through October 7, film enthusiasts can also visit the Monday cinema every Monday from 8 pm. There will be documentaries and science fiction feature films on the subject of AI, followed by a discussion with the audience. Admission is free.
After the exhibition ends in mid-October, interactive guided tours and discussion events on the walls are planned. In addition, visitors to Freiburg will be able to walk from wall to wall with the help of an app and learn more about AI.
The goal of "City Wall Research" is to bring art and science to Freiburg's city center with street art on the subject of AI in five large-format murals and on a tram. With this project, the University of Freiburg is making its contribution to the "Science Year 2019 - Artificial Intelligence," an initiative of the Federal Ministry of Education and Research.
"City Wall Research" is a project by "Nexus Experiments," an initiative of the Cluster of Excellence BrainLinks-BrainTools and Oliver Müller's professorship for contemporary philosophy and technology. Together with artists, Nexus Experiments develops participative, experimental and creative formats. Ludmilla Bartscht, Sabrina Livanec and Mathilde Bessert-Nettelbeck are leading the projects. They work closely together with the Kulturaggregat e.V., a collective of artists and creators of culture who want to bring more art and culture into the public space.
For more information:
Opening hours, addresses and registration (German only)
Nexus Experiments with information about the artists and researchers