Combining Forces for Materials Research
The University of Freiburg and Pennsylvania State University are investing one million US dollars in joint projects
Freiburg, Jul 24, 2019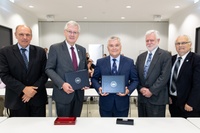 Prof. Dr. Jürgen Rühe, Rector Prof. Dr. Hans-Jochen Schiewer, Prof. Dr. Eric J. Barron, Prof. Dr. Robert Crane, Vice Provost of Pennsylvania State University, and Prof. Dr. Gunther Neuhaus (from the left). Photo: Patrick Seeger
Two research sites, one shared vision: the University of Freiburg and the USA's Pennsylvania State University will in future be cooperating on research into functional, interactive and bioinspired materials. Rector Prof. Dr. Hans-Jochen Schiewer and Prof. Dr. Eric J. Barron, President of Pennsylvania State University, have concluded a partnership agreement, and with it given the go-ahead for the Convergence Center for Living Multifunctional Material Systems, where scientists from both universities will cooperate. For the research, the partners are together contributing one million US dollars for the initial three years.
"This agreement lays the foundations for a joint offensive in materials research, which will deliver answers to many of the global challenges of our time," said Rector Hans-Jochen Schiewer. "We are delighted to have a strong international partner in Pennsylvania State University, with which we have had a long association and which is willing to take up this challenge with us."
"At Penn State, we believe it's critically important to redefine boundaries through gaining a truly global perspective," said Penn State President Eric J. Barron. "Through one of our longest standing global relationships, this partnership with the University of Freiburg represents significant opportunity for our students and faculty, and I'm thrilled to take our work to the next level."
At the heart of the cooperation is the development of materials and materials systems that adapt to changes in their environment in an autonomous fashion, have self-healing mechanisms, harvest their energy from the environment and consist of sustainable components. There are many potential uses for the materials, for example prostheses and protective equipment that can adapt to the wearer automatically and without batteries – for instance by using body heat – taking as their example shock-absorbing mechanisms from nature. In addition, the center will research on green processing as well as bioinspired building materials and architectural components, such as shading for buildings that adapt to the weather and can help to reduce CO2 emissions. At the University of Freiburg, the projects will involve researchers from the field of functional and bioinspired materials, in particular the Cluster of Excellence Living, Adaptive and Energy-autonomous Materials Systems (livMatS), and the Sustainability Center Freiburg.

Shock-absorbing mechanisms such as that of the peel of pomelo fruit can serve researchers as a model for the development of protective equipment, e.g. cycle helmets. (Photos: PBG University of Freiburg R. Soc. Open Sci. 2, 140322 [2015]; UVEX)
"The cooperation enables us to combine forces to pursue our vision of totally innovative materials systems that adapt to their environment in an autonomous fashion and harvest their own clean energy," said Prof. Dr. Jürgen Rühe, livMatS speaker and director of the Freiburg Center for Interactive Materials and Bioinspired Technologies (FIT). "Pennsylvania State University and the University of Freiburg have outstanding scientists who will drive the development of these materials in the coming years."
For the partnership, the universities are being awarded 'seed money'. This is start-up funding for projects where researchers from both institutions will work together on key issues for the Convergence Center for Living Multifunctional Material Systems. A special program will also promote the exchange of students, PhD students and professors.
Alongside the joint initiative in materials research, there will also be greater cooperation in teaching. The 2020-2021 Freiburg-Penn State Virtual Classroom Award supports teachers from all departments at the partner universities in the development of e-learning modules, which will benefit students at both sites.
Pennsylvania State University and the University of Freiburg have cooperated since 1998, and agreed their first strategic partnership in 2014. Since 2016 the universities have awarded seed money from the Collaboration Development Program – so far the program has supported nine research projects.