Ultrasound Connects
The Walter and Ingeborg Herrmann Foundation supports research into industrial ultrasound at the Department of Sustainable Systems Engineering
Freiburg, Nov 13, 2018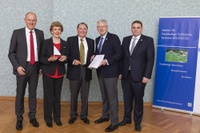 Thomas, Ingeborg and Walter Herrmann, Hans-Jochen Schiewer and Frank Balle (from left) present the funding agreement and a Freiburg Bächleboot – a toy boat – made using ultrasound. Photo: Jürgen Gocke
Developing and improving sustainable material systems with the aid of industrial ultrasound: founded in 2009 by husband and wife Walter and Ingeborg Herrmann, the Walter and Ingeborg Herrmann Foundation is supporting research at the Department of Sustainable Systems Engineering (INATECH) of the University of Freiburg over the next five years with a total of half a million euros – with the option of renewing the term by another five years and doubling the funding to a total of one million euros. "The subject of the environment and sustainability is among the central profile areas of our university. We are very happy and grateful that the Walter and Ingeborg Herrmann Foundation has now become involved in this area in such an outstanding way and will thus enable new impetus for research and teaching," says Rector Prof. Dr. Hans-Jochen Schiewer.
Walter and Ingeborg Herrmann founded what is now Herrmann Ultraschalltechnik GmbH & Co. KG in Karlsbad in 1961. Amongst other things, their foundation aims to promote science and research in the field of connectivity solutions for various materials using industrial ultrasound. With its financial support for INATECH, it wants to contribute to the development of new engineering science competencies and process techniques in this field. "It is important to us that the technological challenges and developments involved in joining materials are also combined with socially significant issues of today. These include the energy and mobility concepts of tomorrow, but also the security and health of our world," emphasize Walter and Ingeborg Herrmann.
The holder of the Walter and Ingeborg Herrmann Foundation Chair of Engineering of Functional Materials is Prof. Dr. Frank Balle, who moved to the University of Freiburg from the Technical University of Kaiserslautern on 1 April 2018. His research focuses on hybrid materials systems that are created by combinations of materials. He uses industrial ultrasound to weld diverse raw materials together. "Our goal is lighter, more efficient and thus more sustainable structures that fulfill new functions and yet remain as far as possible cost-neutral in production," explains Frank Balle. One example is the combination of carbon-fiber reinforced plastics (CFRP) and metals for aircraft construction. Light and at the same time stable CFRP are being used for this, but they do not fulfill every function that is desired in modern aircraft designs – such as lightning protection or electromagnetic shielding of the fuselage. By contrast, composite materials that contain carbon fibers and conductive metal fibers have better electrical characteristics. However the standard rivets used in aircraft construction are not ideal for connecting these fiber compound materials with light metals: the drill holes required cause weak points in the material and therefore have to have additional protection. "Ultrasound welding offers a promising alternative for the connection of such materials – not just for compounds of plastics and various metals, but also for instance for compounds of metal and glass or ceramic," adds Frank Balle. In addition he uses ultrasound to test for fatigue and improve the durability of composite materials which are used in wind turbines amongst other things.
The University of Freiburg founded INATECH at the Faculty of Engineering in 2015. It also represents the engineering science heart of the Sustainability Center Freiburg, which the university runs together with the five Freiburg Fraunhofer Institutes. "The funding from the Herrmann foundation will aid sustainability research at INATECH in a number of ways. Technologies for joining new, lighter raw materials are one aspect. There are examples of research and application of this in all three of INATECH's priority areas: materials, energy and resilience. And the issue is crucial for the strategic branches of research in the field of materials systems, which amongst other things are being researched by the livMatS – Living, Adaptive and Energy-autonomous Materials Cluster of Excellence," says Prof. Dr. Stefan Hiermaier, founding director of INATECH.