Medical Ethics in Practice
Starting in April 2019 the University of Freiburg is offering a new continuing educational development course
Freiburg, Dec 13, 2018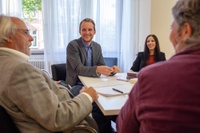 The Weiterbildung Medizinethik seminars combine background knowledge with real-life case studies, patient histories and exercises. Photo: Thales-Akademie für Wirtschaft und Philosophie
In cooperation with the Thales-Akademie and the Hochschule Furtwangen, the University of Freiburg is hosting a continuing educational development (CED) course in medical ethics. The course, which will take place between April and December 2019, consists of eight seminars in combination with online independent studies. Anyone interested in taking part can now register for the course. The seminars combine historic and systematic background knowledge with real-life case studies, patient histories and exercises. The course is designed to link up scientific knowledge and everyday practice.
Medicine has developed into a highly-technological, cost-intensive discipline. The consequences of this development have increased the need for an understanding of medical ethics. The CED is designed to meet this need. It is suited to a wide range of responsible parties from the health sector such as doctors, nurses, therapists and clinical managers, as well as people working in medical technology, pharmaceutics and health insurance. The participants engage with ethical conflicts that can arise at the beginning and end of life as well as during the life course.
The teachers include Freiburg medical ethicist Dr. Claudia Bozzaro and neurologist Dr. Philipp Kellmeyer, human geneticist Prof. Dr. Ulrike Salat and transfusion and emergency care specialist Prof. Dr. Folker Wenzel from the Hochschule Furtwangen, deputy chair of the German Ethics Board Prof. Dr. Claudia Wiesemann from the University of Göttingen and Dr. Philippe Merz from the Thales-Akademie.
The CED concludes in December 2019 with an internationally-recognized Certificate of Advanced Studies. It is recognized by the State Medical Chamber of Baden-Württemberg, which allows it 224 CPD points. The sessions take place roughly every four weeks, in each case on Fridays from 4.30 p.m. till 9.30 p.m. and Saturdays from 9 a.m. till 3.30 p.m.
In 2017, the "Weiter in Südbaden" project gave the Continuing Education Development Award (CEDA), which is endowed with 70,000 euros, to the medical ethics training Weiterbildung Medizinethik to support its development.
More information:
https://www.thales-akademie.de/medizinethik.html
https://www.wb.uni-freiburg.de/wb/angebote/medizinethik