Maria Ladenburger Foundation Established
The foundation's aim is to support University of Freiburg students, especially those in the Faculty of Medicine
Freiburg, Mar 21, 2018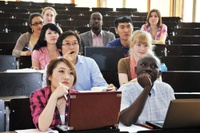 The Maria Ladenburger Foundation also supports students from abroad as they integrate themselves into the university community. Photo:Thomas Kunz
The parents and sisters of Freiburg medical student Maria Ladenburger and the Friends of the University Association have set up a memorial foundation in her name. Ladenburger's life was taken on 16 October 2016. The foundation's purpose will be to support University of Freiburg students, especially those in the Faculty of Medicine. The Maria Ladenburger Foundation will help students who are disabled, suddenly fall ill, or are in challenging periods in their lives, as well as students from abroad who are integrating themselves into the university community. The organization will also promote development aid projects, by supporting, for example, required internships during medical studies.
Maria's parents, Friederike Ladenburger and Dr. Clemens Ladenburger, explained what motivated them to set up the foundation: "Maria studied medicine with enthusiasm, commitment and vitality in order to serve her fellow human beings as a physician. She was and remains a ray of sunshine for her family and friends. The foundation is passing on the gift of her life and showing humanity in her spirit."
The rector of the University of Freiburg, Prof. Dr. Hans-Jochen Schiewer, emphasized how important this foundation is for the university. "During her studies, Maria Ladenburger supported other students and educational programs in other countries. She represents everything that distinguishes our university -- openmindedness, tolerance and curiosity about everything new.  We are very proud that – like her parents and grandparents – Maria studied and was active at the University of Freiburg. This foundation is a moving and magnificent gesture on the part of her family, to whom I extend my heartfelt thanks on behalf of the whole university," said Schiewer.
The dean of the Faculty of Medicine, Prof. Dr. Kerstin Krieglstein, added, "By studying medicine, Maria Ladenburger made the right choice for herself. She wanted to look after people and help them – in the same way she supported her fellow students during her studies. We are all very touched by the family's generous gift."
The foundation has an endowment of 100 thousand euros. The work of the Maria Ladenburger Foundation can be supported by tax deductible contributions and donations.
Bank details:
Maria Ladenburger Stiftung
BW Bank
IBAN:  DE90 6005 0101 0405 1071 99
In the "Zweck" (Reference) line of the form, please write either "Zustiftung" or "Spende."