Leisure and learning
Collaborative research center holds a series of lectures this summer semester, starting 19.04.2018.
Freiburg, Apr 13, 2018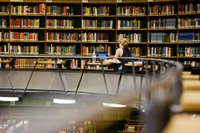 Photo: Peter Mesenholl
Throughout the history of ideas, academic learning has been closely bound up with the notion of leisure – or otium, as the researchers call it. Yet the relationship between the two is not easy – and, given the demands of daily life at university, which is increasingly influenced by global competition, it even seems precarious. The collaborative research center (SFB) Otium. Boundaries, Chronotopes, Practices is holding a 2018 summer semester lecture series at the University of Freiburg on this complex topic. The talks will shed light on the concepts connected with leisure and learning and on the consequences for academic work.
In the inaugural lecture on 19 April 2018, Dr. Jochen Gimmel of the Philosophisches Seminar will speak on "Digressions, associations, images, stories. Scenic routes to learning and leisure." Most lectures begin at 4:15pm in the Kollegiengebäude I, lecture hall 1108, Platz der Universität 3, 79098 Freiburg. One lecture begins earlier: the event on 5 July starts at 2:15pm - also in lecture hall 1108. The events are open to all; they are conducted in German. Admission is free; please register to attend.


The other lecture series dates are:
3 May: Jörg Holkenbrink, artistic director of the Center for Performance Studies at the University of Bremen and of the Theater der Versammlung, and Bremen choreographer Anna Seitz discuss "Interruptions, or, on the playground of the formats. On developing aesthetic sensitivities in academic training."


7 June: David Kaldewey, Professor of Science Studies and Science Policy at the University of Bonn, looks at "Vita activa and Vita contemplativa. On the prehistory of the autonomy of academia."


28 June: Dr. Gert Dressel, of the Universities of Vienna and Klagenfurt, and Dr. Marion Mangelsdorf, Center for Anthropology and Gender Studies at the University of Freiburg, speak about "Leisure as a principle of awareness – Practices in inter- and trans-disciplinary research."


5 July: "Leisure in motion - Knowledge cultures in dialogue. Considerations on academia, art and gender," is the subject under discussion by Doris Ingrisch, Professor of Gender Studies at the University of Music and Performing Arts Vienna, and Marion Mangelsdorf.


On 12 July, the series concludes with the presentation "For fear of leisure. How the economy became a discipline" by Dr. Robert Simon, Free University of Bozen-Bolzano, Academy Meran, Euphur – Euregio Platform.
Contact and registration:
Dr.  Tilman Kasten
Collaborative research center Otium. Boundaries, Chronotopes, Practices
University of Freiburg
Phone: 0761/203-67707
E-Mail: tilman.kasten@sfb1015.uni-freiburg.de