Excellent Sport Science
The Centre for Higher Education has ranked Freiburg's course offerings first nationwide
Freiburg, May 11, 2018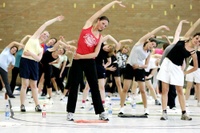 Photo: Meller/Universität Freiburg
Nationwide in first place: Sport science at the University of Freiburg just received an excellent overall score for its degree programs in the Centre for Higher Education (CHE) ranking. It landed at the top under every category: "general study situation," "support for first year students," "scientific publications," "sports facilities," "contact with professional practice" or – in the teacher training program – "school practice."
"For the third time in a row, the CHE ranking has confirmed the leading position of our degree programs nationwide. We are very pleased about our continued success, which is also an incentive for us to further increase the quality of our research and teaching along with the attractiveness of our services," says Prof. Dr. Albert Gollhofer, Director of the Department of Sport and Sport Science.
Starting in the 2018/2019 winter semester, students will be able to enroll in four different degree programs in the Department of Sport and Sport Science. The one-major bachelor's degree program "Sport Science – Movement and Health" allows students to professionally design and implement sports and exercise classes. In addition, it creates a broad professional and academic foundation for pursuing a master's degree.
The more academically oriented master's program "Sport Science - Applied Motion Research" offers a research and project-oriented degree at the interface of sports and health sciences and prepares for independent scientific work. In the double-major bachelor's degree program, students can design their studies individually or with the option of teaching - in the latter case, the "Master of Education," which prepares for teaching at the grammar school. "Our offer is characterized in particular by the fact that in Freiburg we have been concentrating for years on the close intermeshing of theory and practice," summarizes Gollhofer.
Website for the Department of Sport and Sport Science
Contact:
Prof. Dr. Albert Gollhofer
Department of Sport and Sport Science
University of Freiburg
Tel.: 0761/203-4511
E-Mail: ag@sport.uni-freiburg.de