University medal for Karin Endress and Margot Selz
The University of Freiburg honors exceptional achievement and performance during the Dies Universitatis (University Days)
Freiburg, Jun 01, 2017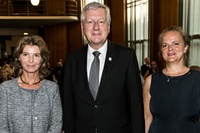 Rector Hans-Jochen Schiewer has awarded Margot Selz (left) and Karin Endress with the University medal. Photo: Patrick Seeger
The rector at the University of Freiburg, Prof. Dr. Hans-Jochen Schiewer, honored two exceptional personalities with the University medal during the Dies Universitatis 2017 for their particular achievement at the University of Freiburg.
Karin Endress, president of the foundation council of the Georg H. Endress Foundation, has received the University medal for the all-encompassing funding of the Faculty of Engineering, Freiburg's sustainability research and the European Campus through the Georg H. Endress Foundation. "What the foundation – and with that I mean the Endress family – has achieved at this university in the past three years has had an extraordinary impact," emphasizes Schiewer. In particular, the ten-year 2.5 million Euro funding for the foundation professorship for Smart Systems Integration at the Institute for Microsystems Technology, the monumental project "InnoSens" on performance sustainability regarding the subject of "Sensor Technology for sustainable food production" with a three-year funding period of 720,000 Euros along with the foundation council's decision on May 9, 2017 to support the excellence center "Quantum Science and Quantum Computing" together with the University of Basel and under the umbrella of "Eucor- The European Campus" with up to ten million Swiss francs for ten years.


Margot Selz, initiator and chairwoman of the "Task Force Freiburg Schools – Initiative for Regulatory Policy e.V." ("Aktionskreises Freiburger Schule – Initiative für Ordnungspolitik e.V.") has received the University medal for her sustainable impact on public discourse about basic questions regarding social market economy in dialogue with the University of Freiburg. "With her work at the task force, Margot Selz has kept the legacy of the Freiburg School of Ordoliberalism alive. It is one of the University's most important and prominent traditions," says Schiewer. Founded primarily by economics professor Walter Eucken in the 1930s, the Freiburg School emphasizes the importance of a societal and political regulatory framework for the economy. The task force is seen as partner and supporter of the Walter Eucken Institute. Selz regularly attracts high-ranking speakers for its events including former Federal President Joachim Gauck, Baden-Württemberg's Minister President Winfried Kretschmann, the chairman of the German Conference of Bishops Reinhard Kardinal Marx, Federal Chancellor Angela Merkel, the former president of ifo (Institute for Economic Research) Hans-Werner Sinn, Federal Bank of Germany President Jens Weidmann and many more.


Two representatives in the election committed of the so-called student recommendation budget (SVB) symbolically characterize four of the 25 total funded projects in the competition "Innovative Studies". The idea behind it is to create university-wide impulses for innovative improvements in the course of studies and instruction. A total of 400,000 Euros from the SVB is available for 2017. Project funding is distributed based on students' recommendations at the University of Freiburg. The honorees include:
The departmental student committee Sociology for organizing an educational workshop for tutors in the fields included in the faculty of philosophy


Viktoriya Gont for her presentation for students with family obligations, Andreas Hanka for his presentation on studying without obstacles, Truc Nguyen for her presentation on gender, Annika Spahn for her rainbow presentation, Dr. Aniela Knoblich and Felix Wittenzellner for the field office Gender und Diversity for their project on diversity sensitization at the University of Freiburg


Dr. Christof Bartels, private lecturer Dr. Markus Walther and Prof. Dr. Günter Reiter from the Institute of Physics for their project on modernizing physics internships for natural scientists


Julia Herb, Felix Winterhalder and Prof. Dr. Petra Gieß-Stüber at the Institute of Sports and Sports Sciences for their project entitled "Education for Sustainable Development and Nature Sports"

The winners of the Bertha Ottenstein prize for special achievement in the area of equality with a total of 2,500 Euros per winner include:


Andrea Althaus for her dissertation in the field of Early Modern and Modern History on the subject "Feminine work emigration from Germany and Austria to Switzerland (1920–1965)"


the students Rebekka Blum und Emanuel Löffler from the departmental committee Sociology for their independent seminar on "Women* and Female Images in the Far-Right"


Dr. Ryan Plumley for his seminar "An Intellectual History of Feminist Thought. A Platform for Gender Studies in Liberal Arts and Sciences" at University College Freiburg


Annika Spahn for her master's thesis in the field of Gender Studies on "Subversion or Assimilation? Trans* and Pregnancy in a heteronormative Society"


In addition, the University of Freiburg premiered three exceptional concepts for creative university instruction with the teacher development award "Instructional Development Award" (IDA). The winners listed below each received 70,000 Euros:
Prof. Dr. Roland Hefendehl & Team (Faculty of Law, Institute for Criminology and Commercial Law): "Jurcoach 2.0 – The next step to the future"


Prof. Dr. Bernd Kortmann, Katja Roller and Marten Juskan (Faculty of Philology, English Seminar): "FREDDIE (FReiburg English Dialect Database for Instruction and E-learning) – A multimedia platform for research- and corpus-based learning"


Prof. Dr. Barbara Koch, Dr. Helmut Saurer, Prof. Dr. Sebastian Brather (Faculty for Environment and Natural Resources, Department of Remote Sensing and Landscape Information Systems and the Department of Physical Geography as well as the Faculty of Philosophy, Department of Archaeology): "Science Trails Freiburg – From the lecture hall to the hands-on experience: Illustrating theoretically taught knowledge using 12 science stations in Freiburg and the surrounding area"

For further information about IDA 2016/17
www.pr.uni-freiburg.de/go/IDA2017