The University of Freiburg names a new honorary professor
The Faculty of Medicine honors Thomas Bortfeld, Professor at Harvard University in Cambridge
Freiburg, Nov 09, 2017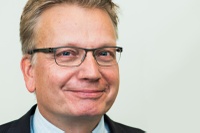 Thomas Bortfeld. Photo: privat
Thomas Bortfeld, full professor at Harvard University in Cambridge, Massachusetts, USA since 2008, is the new honorary professor for the Faculty of Medicine at the University of Freiburg. He is considered one of the most outstanding personalities in medical physics today: He contributed significantly to the invention of intensity modulated radiation therapy (IMRT) with photons and protons. It makes it possible during radiation treatment to change the radiation dose within the radiation field. It increases the chances of patients' healing because the tumor can be irradiated at a higher intensity without harming vital organs. 
Bortfeld received his PhD in physics in 1990 at the University of Heidelberg and received the Richtzenhain Award from the German Cancer Research Center (DKFZ) for the best dissertation in cancer research. Five years later he did his habilitation at the University of Heidelberg. He has been teaching and conducting research in physics at Harvard Medical School since 2001 with the goal of improving radiation treatment for cancer patients. He has published over 150 original papers. In 2016, the Fraunhofer-Gesellschaft  awarded him the academic prize "Forschung im Verbund" ("consortium research") for his scientific achievements.
Bortfeld has worked with the University of Freiburg very closely for many years. He has participated in scientific conferences at the University Medical Center and has published numerous publications together with researchers at the University. In the future, Bortfeld will spend multiple days throughout the year at the University of Freiburg in his new role as honorary professor. During these visits, he will provide training for medical students, continuing education for doctors as well as seminars for doctoral students in physics.
Contact:
Prof. Dr. Anca-Ligia Grosu
Department of Radiation Oncology
University Medical Center Freiburg
Faculty of Medicine
University of Freiburg
Tel.: 0761/ 270-94610
E-Mail: anca.grosu@uniklinik-freiburg.de