Second term for two vice presidents
The University of Freiburg senate votes for Gisela Riescher und Margit Zacharias for another three years
Freiburg, May 31, 2017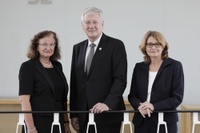 Margit Zacharias, Hans-Jochen Schiewer, Gisela Riescher (left to right). Photo: Jürgen Gocke.
The senate at the University of Freiburg has confirmed two additional vice presidents for a further three years in office. Prof. Dr. Gisela Riescher will maintain her responsibilities in the areas of research integrity, equality and diversity while Prof. Dr. Margit Zacharias will continue to lead the department of innovation and technology transfer. Both have been in the office as vice presidents at the University of Freiburg since 2014. Their new terms will begin on October 1, 2017. "I would like to thank my colleagues for their hard work and I warmly congratulate Gisela Riescher and Margit on their re-election. I look forward to our continued close and trusting collaboration," says Rector Prof. Dr. Hans-Jochen Schiewer.
In 2014 the University of Freiburg was the first university to establish its own prorectorate for research integrity. Gisela Rieschers has achieved a great deal in her first term of office: Along with a thorough examination of cases of possible scientific misconduct, she has also made strong recommendations on how to prevent it. "With its strong national and international network, the University of Freiburg maintains a strong sense of responsibility regarding questions of research integrity," summarizes Riescher. For her next term, she is planning, for instance, to offer a guide on research integrity along with an online portal in order to provide more information and guidance.
Progress has also been made regarding equality and diversity: The University has created the scholarship program STAY! to support  young researchers along with a special coaching program called CORA. Noteworthy achievements include a new representative for disabled students and the toolkit for diversity in the curriculum. Strengthening gender and diversity aspects in research and instruction will be essential in the upcoming term. In addition, a major focus will be a successful application in the excellence strategy competition in which equality and diversity will place a central role.
www.uni-freiburg.de/verwaltung/rektorat/prorektorin-rgv
After three years in office in the department for innovation and technology transfer, Margit Zacharias has seen many positive results. "We have achieved a special dynamic in the area of start-up activities at the University of Freiburg," emphasizes the vice president. The University has joined the top ranks as one of Germany's founding universities, landing on the "founding radar" of the Founder's Association, thanks to the EXIST funding program from the Federal Ministry for Economic Affairs and Energy. The introduction to start-up training in the bachelor's degree program under the aegis of "Learning, Living and Fostering a Start-up Culture" opens up new possibilities for "self-employment" as a potential career option. In the future, Zacharias would like to further develop start-up and technology transfer skills in a holistic process and systematically include aspects of the so-called "Third Mission": "Transfer is not restricted to purely technological transfer. Teaching and transferring scientific knowledge in a mutual dialogue with society, culture, science and politics fosters acceptance and is the central function of any modern university." Her department's A-B-C concept – Academic training, Best counseling and Coaching will be expanded in her second term to include "D" for Dialogue, which stands not only for more communication, but also for greater networking and public awareness.
www.uni-freiburg.de/verwaltung/rektorat/prorektorin-innovation