Sebastian Arnold Receives Heisenberg Professorship
Arnold's research lab works on the specification and differentiation of stem and progenitor cells
Freiburg, Dec 15, 2017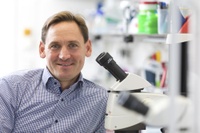 Sebastian Arnold. Photo: Jürgen Gocke
Dr. Sebastian Arnold will be welcomed as a professor at the University of Freiburg where he takes up the newly created position of Heisenberg Professor of Regenerative Pharmacology on December 15, 2017. The professorship is sponsored by the Deutsche Forschungsgemeinschaft (German Research Foundation, or DFG) for a period of five years, and will be followed by a full professorship at the Faculty of Medicine after positive evaluation. Arnold's research lab focuses on the specification and differentiation of stem and progenitor cells during embryonic development and in adults.
Stem and progenitor cells are the building blocks of embryonic development and maintaining a healthy body. While these cells can develop in many different ways in the embryo at first, this potential gradually become limited throughout embryonic development, until the stem and progenitor cells finally evolve into defined cell types. The tracks laid during these developmental processes are usually irreversible and remain consistent not only for the cells themselves, but also for all the daughter cells produced through cell division. This means that cells are able to "remember" their cellular identity that also is inherited to their progeny. After development, there is still a number of tissue-specific stem and progenitor cells in the adult body. These cells are the exception to the rule because they retain a higher developmental potential than differentiated cells. These tissue-specific stem cells can be found in the various tissues of adults, where they can contribute to the maintenance and regeneration of the body by developing into different cell types. Another exception to the rule are pathogenically altered cells, some of which lose their cell identity, like those in malignant tumors.
The goal of Arnold's lab is to understand not only how cell identity is determined, but also how this identity is maintained in the long-term, and how it can be impacted pharmacologically. The researchers hope to use these findings to specifically manipulate cellular identity in the future as a way to enhance the regeneration of tissue, or to treat diseased cells that have lost their cellular identity.
Sebastian Arnold studied medicine at the University of Freiburg and wrote his MD thesis at the Max Planck Institute for Immunobiology and Epigenetics, also in Freiburg. He was awarded the DFG-funded position of Emmy Noether Junior Group Leader in Internal Medicine at the Department of Nephrology (Prof. Dr. Gerd Walz) at the University Medical Center Freiburg from 2010 to 2016. He has been a group leader at the Institute of Experimental and Clinical Pharmacology and Toxicology at the Faculty of Medicine of the University of Freiburg since 2016. He is a member of the two DFG-funded collaborative research centers "Control of Cell Motility in Morphogenesis, Cancer Invasion and Metastasis" and "Kidney Disease: From Genes to Mechanism (KIDGEM)," a board member of the Spemann Graduate School of Biology and Medicine (SGBM), and an associate member of the excellence cluster BIOSS Centre for Biological Signalling Studies, all at the University of Freiburg.
For more information about Sebastian Arnold, please visit:
www.arnold-lab.com