Physics experiments, ethical questions, video conferences
The University of Freiburg pays tribute to outstanding work in teaching and to student commitment.
Freiburg, Aug 15, 2019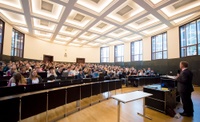 Photo: Patrick Seeger
The University of Freiburg is awarding a University Teaching Prize for outstanding performance to each of the following: Professor Dr. Horst Fischer of the Institute of Physics, Professor Dr. Michael Müller of the Institute for Pharmaceuticals Sciences, and to July Gurol and Ingo Henneberg at the Department of Political Science. The prize comes with 10,000 euros in prize money. The Special Prize for Student Commitment goes to Isabel Gana Dresen, Gynna Lüschow and Tobias Becker. The award comes with 500 euros in prize money. The students, from the Institute for Cultural Anthropology and European Ethnology, receive the award for organizing a multidisciplinary Summer School.
Horst Fischer: explaining complex ideas via demonstration
Horst Fischer's demonstrations of physics experiments convey complex ideas in easy-to-understand ways, sparking interest in the subject. For many years he has used his experiment-oriented teaching method in introductory lectures for Physics and Medicine. This helps to inspire students to study Physics despite the abstract mathematical methods they have to learn to use at the beginning of their studies. His "Christmas lectures", when Fischer presents spectacular experiments, are attended by more than a thousand participants every year.
Michael Müller: showing the broad impact of ethical questions and decisions
Technological progress in medicine and the sciences means we have to keep up with the ethical consequences of these developments for humans. Michael Müller's "Ethics and Sustainability" teaching concept enables Pharmacy students to engage in a dialogue with other subjects to focus on the implications of ethical action. In his seminar, students discover the different methods various subjects employ to deal with ethical questions and to practice seeing the issues from a different perspective.
July Gurol and Ingo Henneberg: explaining politics via video conference
Julia Gurol's and Ingo Henneberg's seminars on peace and conflict resolution research use video conferencing technology and the ILIAS learning platform to offer interactive, multi-location and multi-national events between different universities. The seminars are constantly evolving; from a didactic point of view, they combine classic seminar-supported teaching with newer concepts such as "inverted classroom teaching": Students leave their role as listeners and play a greater part in preparing lesson content. The seminars focus on current political issues and crises in recent years.
Isabel Gana Dresen, Gynna Lüschow and Tobias Becker: giving students some breathing space to enable cultural studies research
The award for outstanding student commitment goes to the initiators of the project "Erheben, deuten, vermitteln - studentische Freiräume kulturwissenschaftlichen Forschens" (Collate, interpret, communicate - a space for student cultural studies research).  Isabel Gana Dresen, Gynna Lüschow and Tobias Becker not only organized an interdisciplinary summer school; they transposed that research-based learning into a nationwide network, produced a book on the project and further developed the format for knowledge transfer. At the Summer School, which ran for several days, they enabled their fellow students to work on a topic independently and without the pressure of coursework and assessment, freeing them up to concentrate on and reinforce their own academic research practices.
More information on July Gurol's and Ingo Henneberg's teaching concept

More information on Michael Müller's seminar