New members of the Leopoldina
National Academy of Sciences has accepted two researchers from the University of Freiburg this year
Freiburg, Nov 30, 2020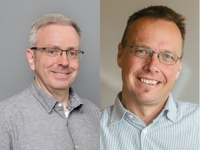 Oliver Einsle (left) und Ingo Krossing. Photos: Christian Hanner, Sandra Meyndt
Biochemist Prof. Dr. Oliver Einsle and chemist Prof. Dr. Ingo Krossing have become members of the Leopoldina as of this year. The most important tasks of the National Academy of Sciences include advising politicians and the public on scientific issues and promoting young scholars.
Oliver Einsle analyzes structure, function and biogenesis of complex enzyme systems. The focus of his research, for which he received a Starting Grant from the European Research Council, is the enzymatic activation of small molecules such as nitrogen, nitrous oxide or carbon monoxide, which are difficult to convert due to their chemical stability, but at the same time are of great ecological and economic importance. For example, the Freiburg biochemist is studying the biological fixation of atmospheric nitrogen, the enzyme-based alternative to the industrial Haber-Bosch process. This microbial process is indispensable for life on earth and yet is catalyzed by only one enzyme, the metalloenzyme nitrogenase. In order to achieve the same catalytic performance, for which the Haber-Bosch process uses extreme pressure and high temperatures, the enzyme relies on a unique metal cofactor which achieves the same efficiency under ambient conditions. With his previous work, Einsle, who is a member of the Centre for Biological Signaling Studies (BIOSS), has contributed to the fundamental understanding of this cofactor.
Ingo Krossing from the Institute of Inorganic and Analytical Chemistry examines a special class of ions, the so-called weakly coordinating anions, which can barely interact with their counterions or other molecules. As a result, they provide access to chemical compounds or systems with very unusual properties and functions. In the simplest case, these are very exemplary substances of fundamental importance that enter textbooks. However, the ionic systems developed by Krossing can also be used in innovative electrochemical storage devices such as batteries and capacitors. In addition, unified scales for measuring and evaluating the underlying electrochemistry have been developed, a project for which he received an Advanced Grant from the European Research Council. In the Cluster of Excellence Living, Adaptive and Energy-autonomous Materials Systems (livMatS), these are to be used in the SolStore project to capture, convert and electrochemically store solar energy in a single unit. In future, they might replace the current combination of solar cell and battery as a compact and efficient alternative.
Founded in 1652, Leopoldina is one of the oldest science academies in the world. As Germany's national academy, it has represented German science in international committees since 2008 and takes an independent stance on the scientific foundations of political and social issues. In interdisciplinary expert groups, the Leopoldina develops public statements on current issues, also in cooperation with other German, European and international academies.
Two scientists from the Medical Center – University of Freiburg were also newly admitted to the Leopoldina this year: Prof. Dr. Stephan Ehl, Medical Director for the Center for Chronic Immunodeficiency (CCI), and Prof. Dr. Robert Thimme, Medical Director for the Department of Internal Medicine II - Gastroenterology, Hepatology, Endocrinology and Infectious Diseases.
Medical Center – University of Freiburg press release   (in German)