New leadership in the University Council
The committee is starting its new term with six external and five internal members
Freiburg, Oct 01, 2018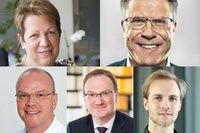 Caption: See press release
The University Council at the University of Freiburg is starting its new term with five newly elected members on October 1, 2018. The new external members include Prof. Dr. Catherine Florentz, professor of biochemistry and molecular biology as well as vice president for research and doctoral candidate education at the University of Strasbourg, and honorary professor Dr. Hagen Pfundner, chairman of the board at Roche Pharma AG and CEO of Roche Deutschland Holding GmbH. Internal members include Prof. Dr. Lars Feld, professor of economic policy and the economics of order as well as director for the Walter Eucken Institute, Prof. Dr. Cornelius Waller, Senior Physician of the Department of Internal Medicine I (Hematology / Oncology) at the University Medical Center Freiburg and Phillip Stöcks, physics student.
Several external members were reelected: Prof. Dr. Dr. Andreas Barner, member of the shareholders' committee at Boehringer Ingelheim GmbH, honorary senator Alfred Theodor Ritter, chairman of the board for der Alfred Ritter GmbH, Prof. Dr. Sabine Rollberg, professor at the Academy of Media Arts Cologne and Dr. Dorothea Rüland, general secretary for the German Academic Exchange Service (DAAD). Prof. Dr. Katharina von Koppenfels-Spies, Institute for Economic, Labor and Social  Policy, and Prof. Dr. Leena Bruckner-Tuderman, Department of Dermatology and Venereology at the University Medical Center Freiburg, will continue their role as internal members of the University Council.
About the University Council
According to the state law on education in Baden-Württemberg (Landeshochschulgesetz), the University Council supervises the University, assumes responsibility in strategic terms, decides on the structural and development planning and proposes measures that serve to profile and increase performance and competitiveness. It oversees the management of the rectorate. The University Council may at any time comment on strategic affairs of the University vis-a-vis the Ministry of Science. The Ministry of Science may solicit statements from the University Council.
Requirements as outlined by the state law on education as well as the University of Freiburg's constitution are taken into consideration when the members are elected. They must be individuals from different areas of social life, who ensure a variety of perspectives, who are familiar with higher education, or who work or have been in fields relevant to the University's tasks – such as science, the arts, business or professional practice.
Caption:
Catherine Florentz und Hagen Pfundner (above, from the left) are new external, Cornelius Waller, Lars Feld und Phillip Stöcks (below, from the left) new internal members of the University Council.
Photos: Catherine Schröder/Université de Strasbourg, Roche, Walter Eucken Institut, Universitätsklinikum Freiburg, Sandra Meyndt