Linking locations, teaching and learning together
2018 University of Freiburg E-Learning Sponsorship Award for political scientist Ingo Henneberg
Freiburg, Jan 29, 2018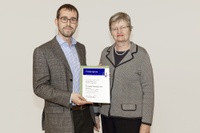 Juliane Besters-Dilger, Vice-President for Academic Affairs, presents Ingo Henneberg with the University of Freiburg 2018 e-Learning Sponsorship Award. Photo: Ingeborg Lehmann
Ingo Henneberg, research assistant at the Department of Political Science, has received this year's University of Freiburg E-Learning Sponsorship Award. The jury was impressed above all with how Henneberg uses the potential of e-learning to create a teaching-learning environment which could not be made any other way. Henning plans to use the 5000 euros in prize money to further develop his idea.
In summer semester 2016, Henneberg conceived of, and conducted, a first ever multi-institution live online lecture series on the subject of the "Islamic State," which ran in cooperation with 13 partner institutions of higher education and research. More than 500 students took part. After this pilot phase, he reworked the concept and developed the multi-institution series of seminars Gefährdung des Friedens in Europa?/Is Peace in Europe Endangered? They were held in summer semester 2017 across six universities; 150 students attended and teaching staff from 13 institutions again took part. In the seminar, lectures by the experts were not broadcast live; they were prerecorded and made available to students ahead of classes at the various universities. That made it possible to use the class time for questions and discussions. In addition, the students formed multi-institution working groups at which they prepared and analyzed the material, processed video interviews with experts, and as part of their assessment, developed open-access e-learning modules.  Henneberg is exploiting the advantages of digital teaching in an outstanding manner, the jury said - for a multi-institution, multimedia, communication-boosting teaching format. The format will be continued in summer semester 2018 with seven partner institutions, this time on the connections between security, development, and migration policy.

Information on the E-Learning Sponsorship Award
Teaching staff who have successfully completed the Implementation module of the E-Learning Qualification Program may apply for the award. The prize money serves to optimize the teaching project and help to give it a firm place in teaching.

Information on the E-Learning Qualification Program
www.rz.uni-freiburg.de/services/elearning/e-quali

Multi-institution series of classes

Article in the Online Magazine about digital classes in Political Science at Freiburg