Political Scientist Julia Gurol and Art Historian Anne Hemkendreis Are New Members of the Young Academy
The Young Academy provides a platform for interdisciplinary projects involving research, art, and society
Freiburg, Jun 07, 2022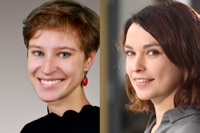 Julia Gurol (left) and Anne Hemkendreis. Photos: Ringfoto Löffler, VIncent Leifer
Two University of Freiburg researchers have received a great honor. Political scientist Dr. Julia Gurol and art historian Dr. Anne Hemkendreis have been admitted to the Young Academy of the Berlin-Brandenburg Academy of Sciences and the National Academy of Sciences Leopoldina. Each year ten young researchers from all over Germany are selected to join. In addition to their own research, the Young Academy gives them a five-year opportunity to work on joint projects and in cooperative formats at the interface of research, art, and society.
Julia Gurol
"It's an enormous chance for real interdisciplinary networking and to discuss relevant research policy issues together with colleagues from other universities," says Gurol. She continues, "That's in regard to the current debate about the role of research in society and politics, as well as the question of where we ourselves need to make reforms in the research system."
Gurol is a lecturer and a directing assistant in the Department of Political Science at the University of Freiburg. Among her research emphases are China's international relations and political economy as well as the global practices of authoritarian regimes, such as China's infrastructure projects in the global South. She is also co-leader of the research project "Global Autocratic Collaboration in Times of COVID-19."
Anne Hemkendreis
"It's particularly exciting for me that the Young Academy is seeking experimental formats for societally relevant issues which also encompass artistic positions," says Dr. Anne Hemkendreis. "For example, how important is actual physical experience in imparting ecological knowledge?" One project that the art historian would like to implement in the coming five years is the conception of a theater piece that deals with questions of climate change using media such as dance and artistry.
Hemkendreis is a lecturer in the Collaborative Research Center ("Sonderforschungsbereich" (SFB)) 948 "Heroes – Heroizations – Heroism. Transformations and Conjunctures from Antiquity to the Modern Day" at the University of Freiburg. Her research focuses on, among other things, the visualization of private and public spheres, questions on the power of images, ascription strategies, art in times of climate change, and the circus as an aesthetic model. Within the SFB she is investigating how contemporary artists use ice as a subject or material and in doing so refer back to polar heroic narratives to impart ecological knowledge. Hemkendreis is an Associate Senior Lecturer at the Humanities Research Centre of the Australian National University (ANU) in Canberra.
The Young Academy
The Young Academy is supported by the Berlin-Brandenburg Academy of Sciences and the National Academy of Sciences Leopoldina. Its aim is to offer young researchers in German-speaking countries interdisciplinary and societally relevant space to shape ideas. Among the requirements for membership are an outstanding doctorate or an outstanding artistic work from a qualification portfolio. Each year, ten members are admitted to the Young Academy and ten members conclude their work after five years and become alumnae or alumni.
Young Academy press release (in German)