Horst Wiehe Award for Michael Staab
Staab is an ecologist who investigates how tree diversity affects interactions between species across different trophic levels
Freiburg, Dec 13, 2017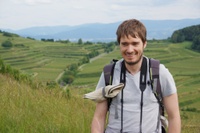 Michael Staab. Photo: privat
For his research on the effect of tree diversity on multi-trophic interactions, the ecologist Dr. Michael Staab from the University of Freiburg has been honored with the Horst Wiehe Award by the Ecological Society of Germany, Austria and Switzerland. This award, which comes with €1,500 in prize money, is the highest honor in the German-speaking world for young scientists conducting ecological research and is normally given out every two years.
Decades of ecological research have established that diversity in lower trophic, or nutritional, levels creates diversity in higher levels. For example, areas with more plant species have usually also more insect species. However, new research has revealed that plant diversity also affects how different species interact with each other, and how they are influenced by the environment. Staab has been studying various types of interaction, some of which occur across many trophic levels, both in natural forests and in experimental tree plantations with different levels of tree diversity. He and his team have demonstrated that these interactions are more stable – and therefore more likely to have higher resistance to disturbances and the loss of individual species – when many different species of trees are found in one area.
Michael Staab is an assistant professor (wissenschaftlicher Assistent) at the Chair of Nature Conservation and Landscape Ecology at the University of Freiburg. In addition to studying multi-trophic interactions and the general effect of biodiversity on ecosystems and ecosystem processes, he also has a strong interest in ant ecology. He is currently conducting research at the Freiburg Institute for Advanced Studies (FRIAS) in a project to determine what components of plant diversity could be suitable for predicting the diversity of other organisms.

For more information about Michael Staab, please visit:
www.nature.uni-freiburg.de/team-en/staab.en
www.frias.uni-freiburg.de/en/people/fellows/current-fellows/staab