Honorary senator distinction for Lya Friedrich Pfeifer
The University honors commitment to the University College Freiburg and German-American relations
Freiburg, Sep 22, 2017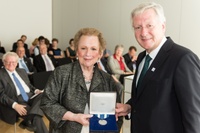 Lya Friedrich Pfeifer and Hans-Jochen Schiewer. Photo: Patrick Seeger
The University of Freiburg has awarded Dr. Lya Friedrich Pfeifer the honorary senator distinction. She has been president of the Max Kade Foundation since 2003. With this recognition, the University is honoring Friedrich Pfeifer for her extraordinary commitment to the University College Freiburg as a teaching and learning institute with an international reach along with her long-standing support for German-American relations and University of Freiburg students through the Max Kade Foundation. Lya Friedrich Pfeifer is an excellent emissary for German-American relations in research and teaching as well as a significant patron and dedicated supporter of the transatlantic alumni network at our university," emphasizes Rector Prof. Dr. Hans-Jochen Schiewer.
The Max Kade Foundation promotes cross-cultural exchange between US and German institutions of higher learning and supports German studies in the US in order to strengthen German-American relations. In January 2017 the foundation agreed to gift the UCF 600,000 euros through a fundraising project sponsored by the University of Freiburg alumni office. The funds will go to renovating two lecture halls at the old university campus where the UCF is located. The University and the Foundation share the same objective of further strengthening international students' high interest in the UCF. In the 1960s and 1990s, the Foundation also built and/or renovated 18 dormitories in the "Student Settlement" located in Freiburg's Seepark area.
Along with her activities at the Max Kade Foundation, Friedrich Pfeifer further supports German-American relations as president of the German American School Association New York, as director and vice president of the German American Partnership Program, as member of the "Deutsches Haus" advisory council at New York University and as director of Goethe Friends New York. In 2009 she received the Federal Cross of Merit for her extraordinary contributions to German-American relations. In 2015 she was awarded the Volkmar and Margret Sander Prize for her exceptional contribution to cultural, political and academic relations between the United States and German-speaking countries.
"It was also in great part to her personal interest in our university that Lya Friedrich Pfeifer has significantly strengthened our connection to the United States in the past few years," says Schiewer. A personal connection to the University of Freiburg emerged in 2007 after the "Solar Seminar" in New York, organized by the alumni office. Even though she herself is not an alumna, she is one of the most prominent members of the alumni club there and is very involved in the network "Friends of Freiburg University".