Heisenberg fellowship goes to Benjamin Kohlmann
German Research Foundation decides to fund English literature scholar from the University of Freiburg
Freiburg, Sep 30, 2019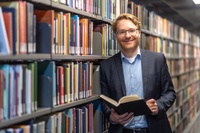 Photo: Patrick Seeger
The German Research Foundation (DFG) has decided to award Dr. Benjamin Kohlmann a place in its Heisenberg program. The program will run for five years with a total funding amount of approximately 500,000 euros. Named after Nobel Prize winner Werner Heisenberg in physics, the fellowship is the DFG's most prestigious grant for researchers in every discipline who meet all the requirements for appointment to a permanent professorship.
Kohlmann was Assistant Professor in the English Department at the University of Freiburg until August 2019, having earned his Habilitation at the University of Freiburg in 2017. In 2018, the DFG awarded him the Heinz Maier-Leibnitz Prize, which is regarded as the most important award for young researchers in Germany. Kohlmann's research in literary studies is informed by cultural studies, and it incorporates historical contexts while also drawing connections to his second subject, philosophy. In his first monograph "Committed Styles: Modernism, Politics, and Left-Wing Literature", published 2014 at Oxford University Press, he used this approach to examine the politicization of British modernist writing in the 1930s. In his second monograph — adapted from his Habilitation and forthcoming with Oxford University Press in 2021 — he applied a related approach to research literary debates about welfare state from the late 19th century to the early twentieth century.
As a scholar of the Heisenberg program, Kohlmann will examine how literature – along with other media, such as film, television and newer Internet formats – adopts reformist impulses from the social and political spheres and translates them into specific aesthetic procedures. "This transhistorical project has a cultural-historical and literary-sociological orientation," explains the Freiburg scholar. "I am specifically investigating literary engagements with the consolidation and crisis of the welfare state from 1945 to the present." Starting in 2020, the funding program will enable Kohlmann to conduct archival research in Great Britain and the USA. In addition, he wants to deepen existing collaborations with other institutes and researchers and build new networks.
In recent years, the University of Freiburg has achieved top positions in all relevant funding programs by national standards. In the DFG's Heisenberg program, it is one of the three most successful universities in Germany.
For more information about Benjamin Kohlmann