Gunther Neuhaus Receives Second Term
Senate and University Council elect Vice President for Research at the University of Freiburg
Freiburg, Apr 18, 2018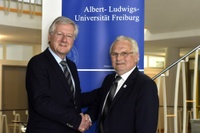 Rector Hans-Jochen Schiewer (left) and vice rector Gunther Neuhaus. Photo: Thomas Kunz
Prof. Dr. Gunther Neuhaus will begin his second term as Vice President for Research at the University of Freiburg in October 2018. The Senate and University Council have elected him for another six-year term. "I cordially congratulate Gunther Neuhaus on his re-election. We are an outstanding team and cooperate very closely and confidently. I am sure that together we will further our university's research strength and international competitiveness significantly in the coming years," says university Rector Prof. Dr. Hans-Jochen Schiewer.
"A vice presidency can only be as good as the whole university, and research here was extremely successful during the past six years," emphasizes Neuhaus. "I'd like to thank my consultants, office staff and all the researchers that contributed to this outcome." One example Neuhaus gives as a milestone of his first term is the continued development of the Freiburg Institute for Advanced Studies (FRIAS). FRIAS is open to all the academic disciplines, offers new funding formats and serves as an important tool for the strategic development of the entire university. Further successes are the founding of the Department of Sustainable Systems Engineering, the integration of the Arnold Bergstraesser Institute for Socio-Cultural Research, which together with FRIAS is establishing the Merian International Centre for Advanced Studies (MICAS Africa) in Ghana, the integration of the German Folksong Archive into the Center for Popular Culture and Music (ZPKM), or the grievance procedure for doctoral candidates.
Looking forward to the coming term, Neuhaus stresses, "I see it as part of my job to connect researchers from different disciplines more closely with each other." This applies to researchers working within the university as well as to cooperation with partner institutions, such as the Freiburg-based Fraunhofer and Max Planck Institutes or the universities working together in Eucor – The European Campus. Neuhaus says that one of the most important upcoming projects is setting up FELSA ("Freiburg Network on Ethical, Legal and Social Aspects of Science and Technology") as a platform for considering developments in the natural sciences and technology with respect to legal issues, ethical questions and societal acceptance. Neuhaus says additionally that it is fundamentally important for the university to ensure its ability to renew itself. FRIAS contributes to that he says, as do events held on the issue of "Disruptive Science" – with the aim of finding research approaches that could possibly lead to major scientific breakthroughs.
Gunther Neuhaus in 1995 accepted a professorship for cell biology at the University of Freiburg. From 1998 to 2011, he was the Director of the Center for Applied Biosciences of the Faculty of Biology. In addition to his scientific activities in research associations and on expert committees, Neuhaus served within the university's self-administration as a vice dean and dean of the Faculty of Biology. He is a member of the German Academy of Sciences "Leopoldina" and has been Vice President for Research at the University of Freiburg since 2012.
Interview on the re-election in the University of Freiburg's online magazine


Research profile of the University of Freiburg

Additional information on Gunther Neuhaus