Erasmus Prize 2021
Rike Sinder receives the University College Freiburg award for her dissertation on Islamic law
Freiburg, Jul 21, 2021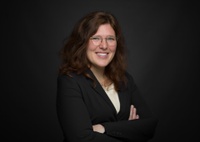 Photo: Christian Hanner
University College Freiburg (UCF) honors Dr. Rike Sinder with the Erasmus Prize for the Liberal Arts and Sciences 2021 in the category 'Dissertations and Postdoctoral Work'. Sinder earned her doctorate at the University of Freiburg's Faculty of Law. Her dissertation carries the title 'Die Systematisierung des islamischen Rechts. Ein Beitrag zur Geschichte teleologischen Naturrechtsdenkens' [The Systematization of Islamic Law. A Contribution to the History of Teleological Natural Law Theory].
The Erasmus Prize is awarded to scientific works that are exemplary in their interdisciplinary perspective and make a substantial contribution to bridging academic disciplines, such as the natural sciences and the humanities. The prize, funded by the Sparkasse Freiburg-Nördlicher Breisgau since 2013, comes with an endowment of 3,500 Euro for Dissertations and first Postdoc-Papers.
For her work, the Freiburg researcher studied the structural change in Islamic law between the 8th and 14th centuries, based on the example of the Islamic legal concept of equity, istiḥsān (a form of juristic discretion, literally 'to consider something good'). In her PhD, Sinder analyzed primary sources in their original Arabic, Ancient Greek and Latin versions and secondary sources. Furthermore, she interlinked Arab philosophy and interpretations of the philosopher Aristotle with Islamic legal theory and debates on natural law.
"Islamic legal thinking is far from being as alien to lawyers trained in the German tradition as one might think given the controversy about the 'foreignness of Islam'," Sinder declares. "Regardless of how the rules may differ, especially notably in criminal and family law, arguments of remarkable similarity are presented on fundamental structural questions, such as whether and how court can 'correct' excessively harsh laws according to equity. In this respect, there is an astonishing kinship between these legal traditions."
Sinder held a STAY! scholarship at the University of Freiburg. In the University of Freiburg's online magazine she explains her work on the question of how the right of assembly in Germany is being changed by virtual spaces.

Contact:
Dr. Rike Sinder
Institute for Staatswissenschaft and Philosophy of Law
Department III: Legal Theory
University of Freiburg
Tel.: +49 761 203 97804
rike.sinder@jura.uni-freiburg.de
Caroline Wacker
University College Freiburg
University of Freiburg
Tel.: + 49 761 203-4435
caroline.wacker@ucf.uni-freiburg.de
Franziska Becker
Press office
University of Freiburg
Tel.: +49 761 203 54271
franziska.becker@pr.uni-freiburg.de