Céline Calvino Receives Funding from the Baden-Württemberg Stiftung
Freiburg chemist will work with American researcher to develop new recyclable plastics
Freiburg, Feb 07, 2022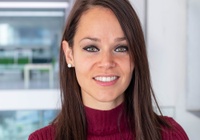 Céline Calvino. Photo: Michal Rössler
The Baden-Württemberg Stiftung is funding the chemist Dr. Céline Calvino from the Living, Adaptive and Energy-autonomous Materials Systems (livMatS) Cluster of Excellence at the University of Freiburg in the "Internationale Spitzenforschung" program. With this program, the Baden-Württemberg Stiftung specifically supports collaborations between researchers based in the German state and outstanding international scientists. Calvino will receive nearly 469,000 euros for her "PhotoPolyNet" project. Together with the American polymer scientist Prof. Dr. Marc Hillmyer from the University of Minnesota, she will develop new types of thermoset plastics that can be recycled using a combination of light and temperature stimulation.
"I am extremely honored that my research proposal has been selected for funding by the Baden-Württemberg Stiftung", says Calvino. "This collaborative project is a chance to combine my competencies with the expertise of a top scientist and create new synergies between our respective research fields and institutions. I am convinced this will boost the development of this new type of renewable thermosets."
Alternatives for non-recyclable thermosets
The international research team will investigate the design and the preparation of renewable polymer materials that could replace thermosets. Due to their robust mechanical properties and high chemical and heat resistance, this type of plastics can be found in a variety of everyday products, such as insulators, pipes, electrical appliances, or automotive components. However, thermosets cannot be recycled due to their macromolecular structure and thus significantly contribute to global plastic waste pollution.
Reversible polymerization using light- and temperature-responsive building blocks
Calvino and Hillmyer will work on the development of light- and temperature-responsive macromolecular building blocks that can be reversibly polymerized upon simultaneous temperature and light stimulation. Polymer chains are expected to dissociate and rebond in a controlled manner during this process, allowing materials to be reprocessed and recycled.
Calvino studied chemistry at the University of Fribourg/Switzerland, focusing on organic synthesis, polymer chemistry, and materials science and received her PhD from the Adolphe Merkle Institute at the University of Fribourg in 2018. Calvino worked as a postdoctoral researcher at the Pritzker School of Molecular Engineering at the University of Chicago/USA. She has been a junior research group leader at the livMatS Cluster of Excellence since February 2021. The Scientific Society of Freiburg awarded her a "Horst Freisler Project" in 2021.
About the Cluster of Excellence livMatS
The Cluster of Excellence Living, Adaptive and Energy-autonomous Materials Systems (livMatS) develops life-like materials systems inspired by nature. The systems will adapt autonomously to their environment, harvest clean energy from it, and be insensitive to damage or recover from it.
About the Baden-Württemberg Stiftung

The Baden-Württemberg Stiftung advocates a vital Baden-Württemberg with a high quality of life for all its residents. It helps pave the way for advanced technological progress, high quality education, and a responsible relationship with fellow human beings. The Baden-Württemberg Stiftung is one of the major foundations in Germany. It is the only foundation which exclusively and above party lines invests in the future of the state of Baden-Württemberg – and thus in the future of its citizens.
More on the research of Céline Calvino

More information about the livMatS Cluster of Excellence
More information about the Baden-Württemberg Stiftung
Pressphoto for Download
Photo: Michal Rössler
Contact:
Dr. Céline Calvino
Cluster of Excellence Living, Adaptive and Energy-autonomous Materials Systems (livMatS)
University of Freiburg
Email: celine.calvino@livmats.uni-freiburg.de
Tel.: 0761/203-95149
Sonja Seidel
Science Communication
Cluster of Excellence Living, Adaptive and Energy-autonomous Materials Systems (livMatS)
University of Freiburg
Email: sonja.seidel@livmats.uni-freiburg.de
Tel.: 0761/203-95361