Long Live the Demonstration
An exhibition in the Uniseum presents everyday life in Freiburg's counterculture scene in the 1970s
Freiburg, Jul 08, 2019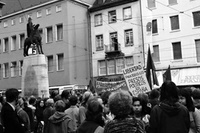 Photo: Willy Pragher/Staatsarchiv Freiburg W134 Nr. 104109d Bild 1
Sit-ins at Bertoldsbrunnen in protest of higher public transportation fares, revolutionary shared living communities squatting and renovating houses and buildings, anti-authoritarian early childhood education in Kinderladen, feminists wearing purple overalls in the Women's Liberation Movement, critical books at the Jos Fritz bookstore, and off-beat music performed by the brass band Rote Note, a group of musicians dedicated to class struggle: All of this was going on in Freiburg's counterculture scene during the turbulent years from 1968 to 1983. A new exhibition in the Uniseum curated by students of the Institute for Cultural Anthropology and European Ethnology under the guidance of Dr. Johannes Müske have explored how changes in society during the "long seventies" left an impact on Freiburg.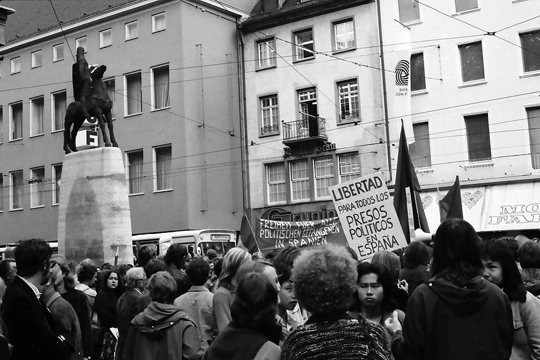 Demonstration against Spain at the Bertoldsbrunnen in 1975.
Photo: Willy Pragher/Staatsarchiv Freiburg W134 Nr. 104109d Bild 1
Creative forms of protest: Sleeping bags, megaphones, and trumpets
Plans to raise public transportation fares in 1968 triggered Freiburg's first major demonstration. School and university students joined forces with senior citizens to protest against the higher ticket prices for trams and buses. "This was the first time people in Freiburg took to the streets in such large numbers," says Kerstin Huber, the curator responsible for this particular aspect of the exhibition. This was also the first time water cannons were ever used in Baden-Württemberg. These protests were just the beginning of countless acts of dissent that would keep Freiburg in a state of unease throughout the 1970s. People squatted empty buildings and houses and defended them against eviction, they performed theater on the streets, and they designed imaginative posters. Many demonstrations were accompanied by the Rote Note (which means "red note"), West Germany's first countercultural brass band founded in Freiburg in 1973.
The protests soon became increasingly focused on stopping plans to build a nuclear power plant in Wyhl on the Kaiserstuhl range of hills roughly 16 kilometers (about 10 miles) from Freiburg. Public opposition was so great that this became the first time such plans were brought to a halt. Protests saw leftist activists and intellectuals from Freiburg join forces with conservative wine growers and farmers from Kaiserstuhl and anti-nuclear protestors from Alsace and Switzerland. After protestors occupied the construction site for months in 1975 and following many years in court, the government finally cancelled the plans in 1983. "Wyhl became a kind of blueprint for later anti-nuclear protests and became a part of the DNA of the environmental movement, out of which the Green Party was born," says Sven Hübschen, the project's curator for this topic.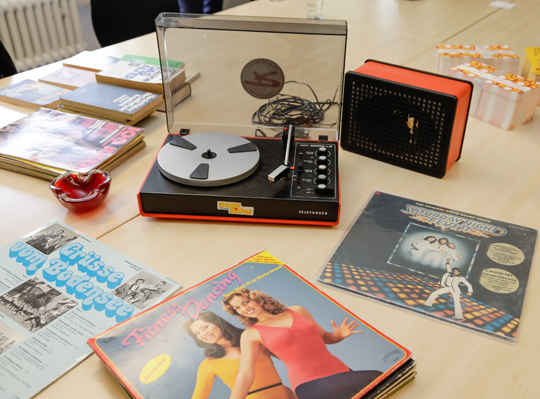 Disco fever, record player and instructions for aerobics: a few cult objects from the 1970s. Photo: Ingeborg F. Lehmann
New alternative lifestyles: Hanging around, DIY, and new approaches to education
Doing things differently than the status quo – that's what it was all about for the counterculture scene in the 1970s. This also applied to how they lived their lives. People wanted to wear different clothing styles and live in different-looking homes. The do-it-yourself movement meant people were building their own furniture and making unisex clothes. "It was a slow-burning issue that can't be assigned to any specific dates, like with the major protests, but it was omnipresent in everyday life," says Nanna Knaup, who researched the clothes from this period. "People saw their lifestyle as a creative form of protest," she adds. Also around this time, the progressive education movement emerged in reaction to old traditions in schools. "People wanted to question everything, including education," says Analisa Cresso. In her research, she focused on the Freie Waldorfschule, one of Freiburg's Steiner Waldorf schools. It was founded in 1973 in Sankt Georgen when the Steiner Waldorf school in the Wiehre became too popular and was unable to take in new students. The loafers and deadbeats around town also sorely provoked the establishment. Their non-conformist attitudes, their "hanging around" in public spaces doing what looked like nothing in particular, and their creative, sometimes disheveled appearance challenged middle-class values to the extreme. This is also presented in the exhibition.
New social movements: Kinderladen, overalls, and the dove of peace
The rejection of old cultural and political conventions gave rise to new social movements that focused on such major themes as democracy, gender equality, social criticism, and the environment. The Women's Liberation Movement raised public awareness about the role of women in society. "It wasn't as revolutionary and angry as in 1968; it was more about sharing ideas about 'what is important to me in my life?' with people who felt the same way," says Alexander Kollecker from the study group. One of the ways women's networks were established were at the so-called Kinderladen. These were anti-authoritarian preschool groups founded to teach children a new understanding of different forms of behavior and roles in society, including gender roles. The largest, overarching movement during this time was also the Peace Movement, which started in the mid-1970s. A highlight of this movement in Germany was the massive demonstration of 350,000 people against the NATO's Double-Track Decision in Bonn in 1981. Both the Peace Movement and the Women's Liberation Movement are still active in Freiburg today.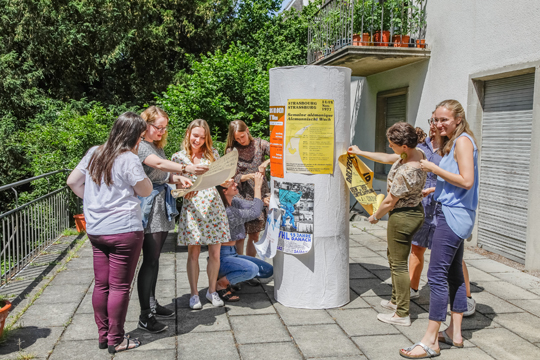 Round and colorful: The students built an advertising column and decorated it with pictures, flyers, and posters from the 1970s. Photo: Ingeborg F. Lehmann
Scenes and popular places: Flyers, film, and disco balls
People in the counterculture scene had their own meeting places: "Places where people could meet and organize," says Laura Steinhaus. Together with Franziska Tacke and Melissa Fischer, she researched different places in the city where they would meet and discuss issues, buy books, watch movies, and dance. There was the Arbeitskreis alternative Kultur (Work Group for Alternative Culture) and the Medienwerkstatt (Media Workshop), where people could explore new forms of communication. Another prominent example in Freiburg is Radio Dreyeckland, Germany's oldest independent radio station. It was founded in 1977 as a pirate station in protest of the Fessenheim nuclear power plant in Alsace. The book store Jos Fritz also opened two years earlier and was (and still is) a place where people could buy leftist and counterculture literature as well as print flyers and posters for the next demonstration in the printing press next door. Both the bookstore, which is on Wilhelmstraße, and the independent radio station still exist today, as does the cinema Kommunales Kino (KoKi), which was founded in 1972 in the Wiehre. This non-profit cinema still shows movies that cannot be seen anywhere else. "These alternative spaces emerged because people were unhappy with the status quo. They wanted to try something new," says Franziska Tacke, who researched KoKi's history. Also new at the time was the non-political disco culture. The innovative disco music and dance styles offered people a new sense of freedom that many in the counterculture scene disapproved of, while others embraced it. However, like many venues that have since vanished from Freiburg's nighttime landscape, most of the popular discos and bars where people in the scene used to hang out no longer exist today.
Verena Adt
Visiting the exhibition

The exhibition "Freiburg in den langen Siebzigern – Facetten einer Stadt im Wandel" (Freiburg in the Long Seventies: Facets of a Changing City) will be open from July 19 to September 14, 2019, at the Uniseum, Bertoldstraße 17. The Uniseum's opening hours are 2–6 p.m. on Thursday, Friday, and Saturday. Guided tours are Saturday at 3 p.m. from August 3 to September 14. Admission is free. The discussion "Freiburg in den langen Siebzigern – und heute?" (Freiburg in the Long Seventies: What about Today?) with people who remember the seventies will be held on September 12 at 7 p.m.

Program and further information