Helping those who need it most
The Brazilian Nilva Schächer believes in the power of language in human interaction
Freiburg, Jul 23, 2018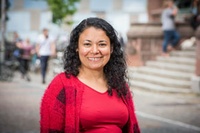 Photo: Klaus Polkowski
The Portuguese-speaking community is spread out throughout the globe. Portuguese is not only spoken in Portugal and Brazil, but also in Angola, Cap Verde, Guinea Bissau, Mozambique, São Tomé e Príncipe and East Timor. In fact, 261 million people speak the language worldwide. And yet not many people learn the language at the University of Freiburg. In a series about seldom-learned languages, Christine Hohlbaum talked with the lecturer Nilva Schächer about the advantages and possible misunderstandings of Portuguese.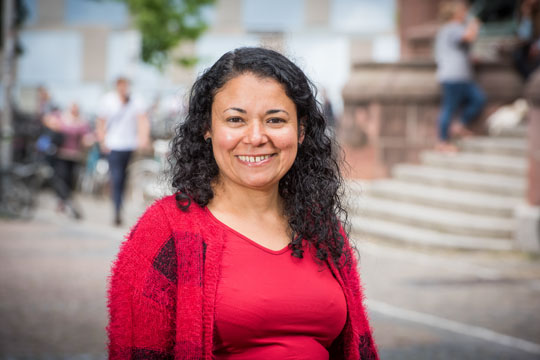 The former social worker and trained language teacher Nilva Schächer has been teaching Portuguese since 2005. She started working at the Language Teaching Centre in 2015. Photo: Klaus Polkowski
Ms. Schächer why is Portuguese considered one of the seldom-learned languages?
Nilva Schächer: The countries in which Portuguese is spoken are considered developing countries and emerging economies. For most people the language has less value for them economically speaking than, for instance, French, German, Spanish or English. Nevertheless, Portuguese, much like French and Spanish, is a romance language. If you speak one of these languages, you can learn Portuguese fairly easily.


What are some of the reasons people should learn Portuguese?
Portuguese-speaking countries cannot promise economic wealth. Instead, they are in need of social involvement. These countries have a lot of vulnerabilities such as the many street children and high unemployment. You don't necessarily have to be an academic to learn Portuguese. As a social worker, I discovered how important language is in every day life in order to reach people. It is about being human, showing interest in new things and helping those who need it most.


Which Portuguese expression should everyone learn?
"Obrigada" (Thank you) is a very important word. By the way, in Portuguese it depends on the speaker as to whether you use the feminine or masculine form. In Italian it is just the opposite, for example.


What is your favorite word?
"Saudade" is a fantastic term. You could translate it as meaning "yearning": "Something is missing. I have lost it forever and I pine for it." It is like that in love. It is better to have loved and lost than never to have loved at all. Another expression I like to use is "Chorar o leite derramado" (crying over spilled milk). I cry about something that is irretrievable.


What "false friend" should people look out for in Portuguese?
There are indeed misunderstandings among the varieties of Portuguese. For example, the Brazilian I speak has adopted the word "bicha" from Portuguese. In Portugal, it means "queue," but in Brazil, the male form "o bicha" means "homosexual."


Which Portuguese expression do you miss in German?
"Chega de saudade" is a phrase that is deeply connected with yearning. It means as much as "Enough is enough! I miss you so much." It is also the title of a very famous Brazilian song.


Which Portuguese word best describes the University of Freiburg and what does it mean?
Because I studied literature, I view the University in a literary context: "Classisismo" means "classicism." It is something valuable that people should preserve and to which we can refer in the face of modernity.
Language Teaching Centre

The Language Teaching Centre (SLI) at the University of Freiburg offers courses in more than 20 languages that are open to all students, staff and University guests along with the general public.

Course offerings and registration