From Classroom Instruction to Remote Instruction
The E-Learning Service Center provides webinars to inform teachers about the possibilities of using digital tools in teaching
Freiburg, Mar 26, 2020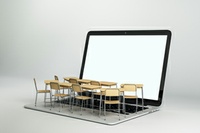 Most of the University of Freiburg's employees must work from home these days, no one knows for how long. This is a time for taking opportunities, facing challenges, and improvising. Instructors are especially having to face challenges like adapting the content of their classes to e-learning, even if there are no classes to teach at the moment. The E-Learning Service Center is now the first place many of them turn to.  Judith Burggrabe talked to the head of the Service Center, Dr. Nicole Wöhrle, about what people expect from using digital tools to enable instruction right now.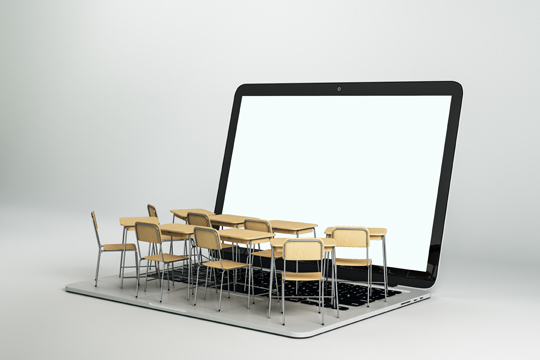 The current coronavirus epidemic makes classroom teaching impossible. Teachers at the University of Freiburg want to adapt more of their classes and lectures to digital tools. Photo: peshkov/stock.adobe.com 
Ms. Wöhrle, how can digital learning solutions be used to make up for classroom teaching when that is no longer possible?

Nicole Wöhrle: Primarily, the idea is to enable teachers to think and act in terms of remote teaching situations. There are many things that we can now start to think about, change, and accelerate. At the moment, our means of choice are webinars to inform our teachers. They want to get an overview of the different possibilities of e-learning as quickly as possible. They want to find out what tools are right for them and for the infrastructure available to them.
What do you recommend to them?
We recommend that they focus on asynchronous teaching. That means that they don't teach in real time. The classes are recorded ahead of time, PowerPoint slides are voiced over, and digital exercises are created. The ILIAS learning platform provides comprehensive tools for all of this. At the moment, the idea is to take advantage of the possibilities that can be easily put into practice in a home office situation. Teachers can take more time to do this right now, and they can do something over again if necessary. This gives them confidence, and the materials can also be used to supplement classroom teaching later, once the situation has normalized again.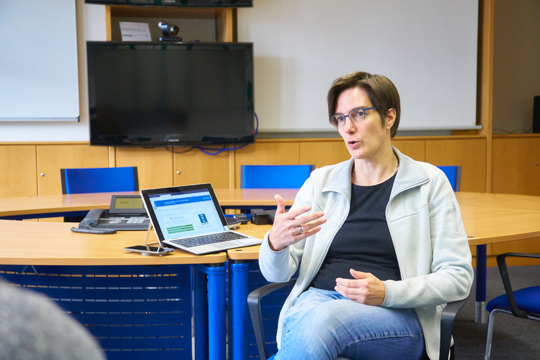 "Lectures that normally last 45 or 90 minutes have to be recorded in shorter video sequences of maybe 10 minutes": Nicole Wöhrle wants to inform people about ways to use digital tools in their teaching. Photo: Harald Neumann
How does the E-Learning Service Center support teachers?
We offer webinars on different topics, like our ILIAS learning platform, or how materials can be provided in digital learning spaces. Some teachers hope they'll be able to hold lectures for hundreds of students in real time using a video conferencing tool. However, we're a little skeptical about that, mainly because the technical realization is currently not always reliable. You also need a lot of teaching experience to be able to teach large groups of more than 50 people in a live setting. Be that as it may, we of course inform and advise people about how they can use a video conferencing tool to teach classes remotely in real time, especially when working interactively with small groups. We're also looking at what major systems offered by market leaders we could use at the University.
Just so no one gets any wrong ideas: What are the limits of remote teaching?
These are dynamically shifting right now. There is an astonishingly high demand, and many teachers are coming to us with their own very creative solutions. We can see how the Internet is being used all over the world to an extend that is unprecedented. Suddenly, many people are working from home, and schools are teaching their students using web-based tools, as are universities. Major streaming providers have reduced their streaming bitrates across Europe to relieve network infrastructure. You also need some practice adapting classroom teaching to remote teaching. Lectures that would normally last 45 or 90 minutes need to be recorded in shorter video sequences of maybe 10 minutes. These in turn should be accompanied by exercises and a chance to provide feedback. This way, teachers can ensure that students achieve learning goals. Our primary objective here at the E-Learning Service Center is to support as many teachers as possible, so they have a smooth journey learning how to use digital tools in their teaching. Everything else will be decided in the near future, when political and legal frameworks are defined as well.