Break out of the bubble! University teaching and the rest of the world
Interview with Vice Rector Prof. Dr. Michael Schwarze about Learning and Teaching Day 2023
Freiburg, Oct 23, 2023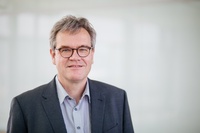 Rector for Academic Affairs Prof. Dr. Michael Schwarze. Photo: Sandra Meyndt
This year's Learning and Teaching Day will take place at the University of Freiburg on 24 November 2023. Prof. Dr. Michael Schwarze, Vice Rector for Academic Affairs, gives an overview of the event in an interview with Salome Leenen and reports on current developments and challenges in studying and teaching.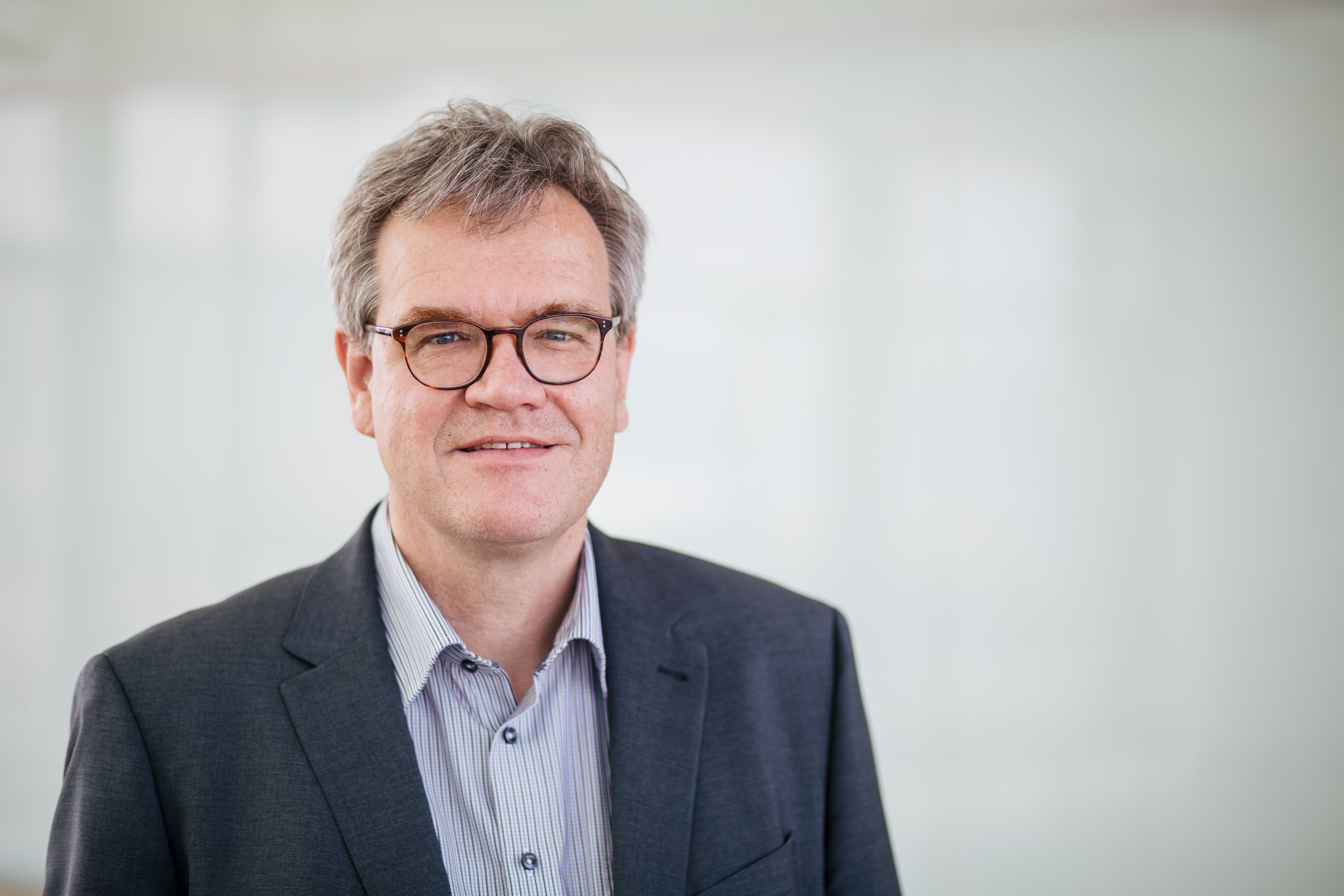 Vice Rector for Academic Affairs Prof. Dr. Michael Schwarze. Photo: Sandra Meyndt
Learning and Teaching Day is taking place once again. What makes this year in particular so different?
Learning and Teaching Day has existed since 2016 with different themes (for example, International Teaching Day 2018, Digital Teaching Day 2020). While last year (2022) digitalisation in teaching was discussed in particular from the experience of teaching under pandemic conditions, on this year's Learning and Teaching Day we would like to focus on teaching that involves society in a special way. The University has a very special obligation here, on the one hand towards its own students, who often demand more practical relevance in their studies, but also towards external partners in the city and the region.
This year we have more programmes for students that draw attention to existing services and support students, for example, in dealing with the multiple crises in society and changing challenges in the world of work. Think, for example, of the topic of mental health, the search for meaning in studies and in life, but also the development of competences or the perception and use of one's own strengths.
For teachers, there are above all opportunities and formats for integrating social aspects and contexts into their own teaching.
Over lunchtime, students and teachers can exchange ideas with each other in a new format called the "Market of Opportunities" in which they can gather information at various booths showcasing various (service) facilities at the University, spontaneously seek personal advice and draw inspiration for their own teaching and studies from the short lectures on offer.
Who is the target audience for Learning and Teaching Day?
This year, we have made sure to put together an attractive programme not only for teachers, but also for interested students. In addition, we cordially invite other University members who are involved in teaching and studies, as well as students, teachers and staff from our partner universities, such as the PH Freiburg and the Hochschule für Musik (College of Music), as well as the university networks Eucor and EPICUR, and the general public to inform themselves and enter into an exchange with each other about the above-mentioned topics.
The motto of this year's Learning and Teaching Day is "Break out of the bubble! University teaching and the rest of the world." Is the University of Freiburg in a bubble? In your opinion, to what extent is the University of Freiburg intertwined with or shielded from society?
Of course, I mean it in a rather self-deprecating way. The University of Freiburg is certainly not an ivory tower; this is also shown by the many examples in the Learning and Teaching Day programme in which we offer teaching formats together with stakeholders from society. However, you always have to make sure you are not too self-absorbed and regularly look beyond your own horizon!
The motto "Break out of the bubble" also means that the University is not only a place where subject content is taught or learned or research is conducted, and not only a place where young people are educated and socialised in their chosen disciplines. We want to become aware of this "bubble" in order to move beyond it on Learning and Teaching Day. University offers much more than that, namely the possibility to deal with the issues and challenges of our society beyond the boundaries of one's own discipline, and to work on solutions to problems together with experts and other stakeholders in society. University is a place where our view of the world and our future behaviour are shaped.
Learning and Teaching Day is intended to provide an opportunity to discuss the role of university teaching within society. Why is a close link, a reciprocal transfer between university teaching and society so important today?
We are living in a time of great social challenges. The processes of change in the near future will be significantly shaped by the generation of current students. It is therefore one of the University's tasks to equip them with knowledge and skills that will enable them to face these challenges. And this is best done at the cutting edge, together with active partners from society.
How have recent events such as pandemics, wars or digitalisation shaped society? And what impact do they have on university teaching and studies? What do we want to preserve or change, and in what direction? Conversely, how has the university influenced society? What forms of cooperation are there? What does this link bring to all sides – the learners and teachers as well as the stakeholders from society?
Our duty to contribute to social progress is enshrined in law, and we can only fulfil this duty through reciprocal transfer, which we can also put into practice in teaching.
What does this reciprocal transfer mean for teaching and studying in the future? What is required to preserve or change it?
Reciprocal transfer is, among other things, about the questions: How can university teaching develop further together with society? How can the transfer from the university to society and vice versa succeed? What kind of mindset should prevail at a university so that it can, as the University of Freiburg puts it in its mission statement on learning and teaching, prepare "future generations for challenging societal tasks"? We would like to discuss which strategies are suitable to achieve these goals.
What should we preserve or change in teaching under the current social conditions, and in what direction? This is the question that cannot or should not be decided in the rectorate alone. On Learning and Teaching Day, we want to reflect on these questions together with the university-wide community, but also with our partners and guests.
Are there already special formats in studies and teaching at the University of Freiburg that take society into consideration and even include it?
For example, there is the module "Service Learning" at the Center for Key Qualifications (ZfS), where students can get involved in civil society as part of their studies and are thus also able to offer suggestions based on their practical experience. From the approach of "problem-based learning," in which real social problems form the subject of a course, to collaborations with schools, there are already a multitude of offers, formats and best practice examples in our curricula, in individual teaching projects of various subjects as well as in student initiatives and commitments. It is precisely these examples that we would like to present on Learning and Teaching Day in the morning and at the Market of Opportunities. Of course, we hope to inspire even more ideas through the event!
Are there any concrete plans for the further development of university teaching at the University of Freiburg that you are pursuing?
For us, further development means constantly moving closer to the strategic goals we have formulated in our mission statement of learning and teaching. In this mission statement, we commit ourselves, for example, to connecting the University and society and to strengthening regional engagement. But the readiness of students to view independent and critical thinking and action as the goal of their education at our university is also formulated there. In addition, there are concrete tasks ahead in the area of the high school teaching profession such as the pilot for a dual study programme, but also the strengthening of the teaching profession within the University itself.
Learning and Teaching Day 2023
"Break out of the bubble! University teaching and the rest of the world"
24 November 2023, 9am – 5pm
Auditorium at the University of Freiburg, KG I

Registration is possible at ufr.link/tdll2023 after joining the info room in the form of a short survey. Registration deadline is 8 November 2023.