Venice for Three Euros
Venice plans to charge an entrance fee to make up for damage caused by tourism
Freiburg, Jun 13, 2019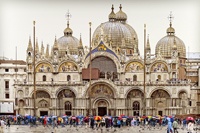 Strolling over the Rialto Bridge at sunset, marveling at the colorful carnival masks, or listening to the gondoliers while sipping a cappuccino: It's easy to see why Venice is such a popular travel destination. However, despite generating a considerable amount of revenue, the increasing number of tourists also causes many problems, including the piles of garbage left behind and high maintenance costs. The city on the Adriatic Sea has now come up with a solution: People visiting Venice for the day will now be charged an entrance fee. This new policy is expected to take effect in September 2019. But could such a fee scare tourists away?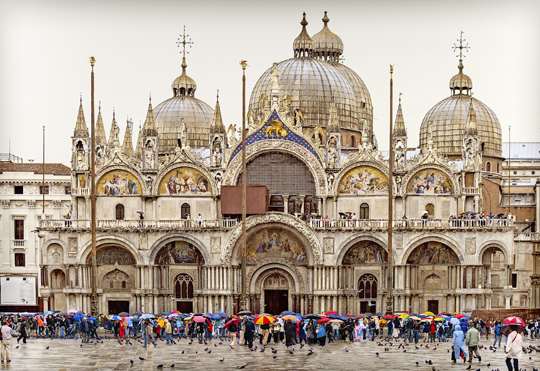 Masses of people in front of St. Mark's Basilica. "Venice is practically drowning in tourists," says marketing expert Dieter Tscheulin. Photo: Rangzen/stock.adobe.com
This much discussed entrance fee is nothing new for overnight guests. In many places, a "tourism tax" is already added to hotel prices. What is new, however, is that day-trippers to Venice will now also have to pay an entrance fee that is expected to range between three and ten euros. "Venice is practically drowning in tourists," says marketing expert Prof. Dr. Dieter Tscheulin from the University of Freiburg. "Although visitors spend money in the city, they also leave piles of garbage behind and damage many things that then need to be repaired." There are also many short-stay visitors who bring their own food into Venice because they find the hotel and restaurant prices in the lagoon city too high.
Damage to the ecosystem
Tscheulin points out that this problem also concerns the cruise ships that call at Venice. "People on these ships pay for all-inclusive vacations. This means that several thousand visitors will descend on the Piazza San Marco all at once, look around, and then return to their ship to eat and sleep." Venetians find this particularly upsetting and have decided to no longer let large cruise ships drop anchor in the historical city center. "In addition to the city's limited capacity, another argument is that the cruise ships, which continue to grow in number and size, are destroying the ecosystem of the lagoon and threatening the stability of the buildings," explains Tscheulin.
No danger of a "snob effect"
Tscheulin is convinced that tourists will still visit Venice in droves, despite the entrance fee. "A city could only become unattractive this way if the entrance fee were so high that it excludes many people." The term for this in economics is the "snob effect," which he explains as when "a product becomes more attractive just because it's expensive." This would not be the case with an entrance fee of three to ten euros; for that, the fee would have to be 50 to 100 euros.
Technically implementing the entrance fee has turned out to be a complicated process, however. "A toll system would most likely be difficult, and it could create a negative impression." A more elegant solution would be to raise the ticket prices for the water buses, the so-called vaporetti. The city of Dubrovnik in Croatia came up with its own clever solution: It now charges visitors an entrance fee to see the city walls. The fee equals roughly 13 euros. The Dubrovnik method is especially interesting if you want to avoid installing toll barriers, says Tscheulin, adding, "It's a good solution if you have a unique attraction that all visitors will want to see." The trend toward entrance fees can currently be found in many European cities. "Amsterdam charges canal cruise passengers eight euros, and Edinburgh is also currently considering introducing a 'tourist tax' that would equal roughly 2.30 euros."
A model for Germany?
According to experts, this model would not really work for German cities. Day visitors already bring a lot of money to places like Freiburg, Heidelberg, and Berlin in gastronomy alone. According to Tscheulin, "Such an entrance fee would only make sense for places with a similar island character and high level of attractiveness, like Sylt or Helgoland, for example."

Judith Burggrabe